Selecting Clamps Using
Pipe,

Conduit,

or Tubing Trade Size
Strut Channel Feet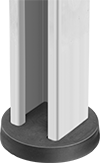 Provide a stable, nonmarring base for strut channel legs.
For technical drawings and 3-D models, click on a part number.
For Strut
Channel

Ht.

For Strut
Channel

Wd.

Dia.

Thick.

Material
Color
Insert
Material

Capacity,




lbs.

Each
1

5/8

"
1

5/8

"
3"

1/2

"
Rubber
Black
Steel
200
000000
000000
Strut-Mount

Vibration-Damping

Routing Clamps
Slide multiple clamps into existing strut channel to organize lines of pipe, tubing, and conduit without the need for drilling, welding, or using adhesive. Clamps have a plastic or rubber cushion or body to reduce vibration.
TPE clamps hold lines of pipe, tubing, and conduit in light duty applications without the need for fasteners or installation tools. Made from a single piece of rubber, they prevent corrosion caused by metal-to-metal contact and resist most oils, chemicals, and cleaning compounds. To install, insert the clamp into strut channel and twist it 90° to secure. Then, press material into the clamp.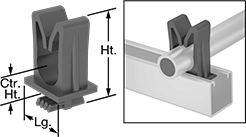 Inch

Metric,


mm
For Pipe
Size
Capacity

Lg.

Wd.

Ht.

Center


Ht.

Thick.

For Strut
Channel

Wd.

Temp.




Range,

°F

Each

TPE Rubber

1/4

"
6
__
75 lbs.
1

5/16

"
1

3/8

"
1

5/16

"

3/16

"

5/64

"
1

5/8

"
-50° to 275°
000000000
00000

3/8

"
10
__
75 lbs.
1

5/16

"
1

3/8

"
1

1/2

"

5/16

"

5/64

"
1

5/8

"
-50° to 275°
000000000
0000

1/2

"
13

1/8

75 lbs.
1

1/2

"
1

3/8

"
1

13/16

"

7/16

"

3/32

"
1

5/8

"
-50° to 275°
000000000
0000

1/2

"
13

1/8

75 lbs.
1

1/2

"
1

3/8

"
2

1/8

"

1/2

"

1/8

"
1

5/8

"
-50° to 275°
000000000
000

5/8

"
16

1/4

75 lbs.
1

1/2

"
1

3/8

"
2"

1/2

"

7/64

"
1

5/8

"
-50° to 275°
000000000
0000

3/4

"
19

3/8

75 lbs.
1

1/2

"
1

3/8

"
2

1/8

"

9/16

"

9/64

"
1

5/8

"
-50° to 275°
000000000
0000

3/4

"
19

3/8

75 lbs.
1

5/8

"
1

3/8

"
2

1/2

"

11/16

"

5/32

"
1

5/8

"
-50° to 275°
000000000
0000

7/8

"
22

1/2

75 lbs.
1

5/8

"
1

3/8

"
2

1/2

"

11/16

"

5/32

"
1

5/8

"
-50° to 275°
000000000
0000
1"
25
__
75 lbs.
1

15/16

"
1

3/8

"
3"

13/16

"

3/16

"
1

5/8

"
-50° to 275°
000000000
0000
1

1/8

"
29

3/4

75 lbs.
1

15/16

"
1

3/8

"
2

7/8

"

13/16

"

3/16

"
1

5/8

"
-50° to 275°
000000000
0000