Magnetic Chip Collectors

Collector magnetized to pick up steel chips

Pull the plunger to demagnetize
Magnetized on all sides, these wand-like tools remove steel chips from machinery, the floor, and your clothing. Pull the plunger to demagnetize and drop the chips into your collection bin.
Chip-Guard

Lids for Drums and Waste Containers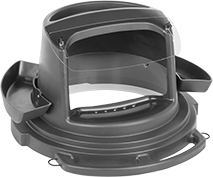 Convert drums and waste containers into parts cleaning workstations—these lids fit most 55-gal. drums and 44- and 55-gal. waste containers. The lids have a wide opening and a clear shield to protect you as you blow off chips, oil, and other debris from into the container below. Place your machined parts in one removable bin, then place the cleaned parts in the other removable bin to transport them. Hang your blowgun or other tools on the hooks.
For
Container


Dia.

Length
Width
Height
Material
Color
Features
Includes
Each
23

1/2

" - 26

1/2

"
15"
11"
18"
Plastic
Blue
Top Storage Bin
Transparent Shield, Two Hooks, Two Removable Bins
0000000
0000000