Vibration-Resistant

Captive Panel Screws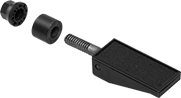 An expanding rubber bushing damps vibration while holding panels together. To install, push the threaded end through a hole in the outer panel, slide on the bushing, and tighten the nut. Next, insert the assembly through the inner panel hole and flip the handle to fasten. They become a part of the panel when installed, so they won't fall out and get lost.
For technical drawings and 3-D models, click on a part number.
Outer
Total

Ht.

Wd.

For Inner Panel
Hole


Dia.

Lg.

Ht.

Material
Color
Screw


Lg.

Bushing
Material
Nut
Material
Each

Zinc Alloy

0.01" to 0.13"
0.26"
0.161"
0.13"
0.375"
1.09"
0.31"
Nylon Plastic
Black
0.52"
Rubber
Nylon Plastic
000000000
00000

Brass

0.01" to 0.19"
0.38"
0.228"
0.177"
0.547"
1.53"
0.45"
Nylon Plastic
Black
0.75"
Rubber
Nylon Plastic
000000000
0000