About
Static-Control

Mats
Electric Shock Protection Mats
Tested to withstand the stated dielectric test voltage, these mats protect workers from electrical shock when working around high-voltage equipment.
Vinyl mats resist UV light, grease, oil, and chemicals.
Diamond tread and ribbed mats have a slip-resistant surface for good traction.
Smooth mats have an easy-to-clean surface. Use where high traction is not essential.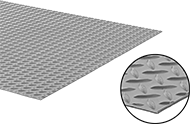 Diamond Tread
Wd.

Max.




Lg.,




ft.

Thick.

Mat
Hardness
Military
Dielectric
Test Voltage
For


Max.


Voltage
Edge
Profile
For
Use
Outdoors
Specifications
Met
Color
Per


Ft.

Vinyl Plastic

36"
75

3/16

"
Firm
30,000V AC
3,000V AC
Flat
Yes
MIL-DTL-15562 Type III
Light Gray
0000000
000000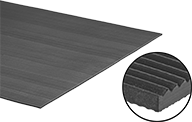 Ribbed
Wd.

Max.




Lg.,




ft.

Thick.

Mat
Hardness
ASTM
Dielectric
Test Voltage
For


Max.


Voltage
Edge
Profile
For
Use
Outdoors
Specifications
Met
Color
Per


Ft.

24"
75

3/16

"
Firm
20,000V AC
7,500V AC
Flat
No
ASTM D178 Type I Class 1
Black
0000000
000000
30"
75

3/16

"
Firm
20,000V AC
7,500V AC
Flat
No
ASTM D178 Type I Class 1
Black
0000000
00000
36"
75

3/16

"
Firm
20,000V AC
7,500V AC
Flat
No
ASTM D178 Type I Class 1
Black
0000000
00000

SBR Rubber

24"
75

1/4

"
Firm
30,000V AC
17,000V AC
Flat
No
ASTM D178 Type I Class 2
Black
0000000
00000
30"
75

1/4

"
Firm
30,000V AC
17,000V AC
Flat
No
ASTM D178 Type I Class 2
Black
0000000
00000
36"
75

1/4

"
Firm
30,000V AC
17,000V AC
Flat
No
ASTM D178 Type I Class 2
Black
0000000
00000
48"
75

1/4

"
Firm
30,000V AC
17,000V AC
Flat
No
ASTM D178 Type I Class 2
Black
0000000
00000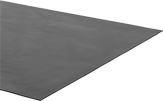 Smooth
Wd.

Max.




Lg.,

ft.

Thick.

Mat
Hardness
Military
Dielectric
Test Voltage
For


Max.


Voltage
Edge
Profile
For
Use
Outdoors
Specifications
Met
Color
Per


Ft.

Vinyl Plastic

36"
75

1/8

"
Firm
30,000V AC
3,000V AC
Flat
Yes
MIL-DTL-15562 Type II
Black
0000000
000000