Choosing an Electrical Switch
About Hazardous Location Environmental Ratings
30 mm

Emergency Stop

Panel-Mount

Push-Button

Switches
Immediately cut power with a single push. These switches are rated for protection from low-pressure streams of water and oil/coolant spraying. They have positive force contacts that will open a circuit when actuated even if a spring fails or the contacts stick. Switches include enough contact blocks to control the number of circuits listed.
Turn twist switches back on by twisting the button and pull switches by pulling it. Add an optional lockout on either kind to cover the button and prevent changes its position.
Note: Illuminated switches include a bulb. If wiring the switch and the bulb to the same circuit, the circuit voltage must not exceed bulb voltage.
Additional contact blocks (sold separately) can be added to control more circuits, or to replace the included contact block.
Hazardous Location Foot Switches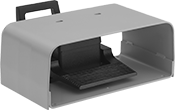 With One Pedal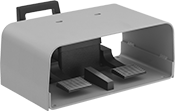 With Two Pedals
These switches are rated for environments where hazardous material is present. Press the pedal with your foot for hands-free operation. They have an oversized guard that accommodates bulky footwear.
Hazardous location environmental ratings indicate whether manufacturers have included safety features in products to facilitate their safe use in a hazardous environment. Before selecting a product for a hazardous location, ensure it is rated for your environment. See About Hazardous Location Environmental Ratings.
No.

of
Circuits
Controlled
Switch
Starting
Position
Switch
Action
Industry
Designation
Switching
Current @
Voltage
Fasteners
Included

No.


of
Holes
Hole


Dia.

Environmental
Rating
Each

1 Speed

with Screw Terminals

Aluminum Housing with 1

Pedal,

Oversized

Guard,

and Back Pivot

1
1 Off (Normally Open) or 1 On (Normally Closed)
Springs Back (Momentary)
SPDT
20 A @ 125 V AC/250 V AC
No
6
0.28"
NEC Class I Divisions 1, 2 Group D
NEC Class II Divisions 1, 2 Groups F, G
NEC Zone 1 Group IIA
IP41
NEMA 2
NEMA 7
NEMA 9
0000000
0000000
2
2 Off (Normally Open) or 2 On (Normally Closed)
Springs Back (Momentary)
DPDT
20 A @ 125 V AC/250 V AC
No
6
0.28"
NEC Class I Divisions 1, 2 Group D
NEC Class II Divisions 1, 2 Groups F, G
NEC Zone 1 Group IIA
IP41
NEMA 2
NEMA 7
NEMA 9
0000000
000000

Aluminum Housing with 2

Pedals,

Oversized

Guard,

and Back Pivot

2
1 Off (Normally Open) or 1 On (Normally Closed)
Springs Back (Momentary)
SPDT
20 A @ 125 V AC/250 V AC
No
6
0.28"
NEC Class I Divisions 1, 2 Group D
NEC Class II Divisions 1, 2 Groups F, G
NEC Zone 1 Group IIA
IP41
NEMA 2
NEMA 7
NEMA 9
0000000
000000