Matching Flow Diagrams to Replace an Air Directional Control Valve
Choosing an Air Directional Control Valve
Two-Action

Air Directional Control Valves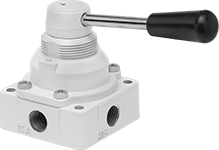 B
Also known as 4-way and 4/2 valves, these valves create two actions, such as extending and then retracting a double-acting cylinder. They direct airflow from the inlet to your equipment and exhaust return airflow to create motion.
Valves with hand return actuation stay actuated and return to their original position only when you move the actuator again.
Flow coefficient (Cv) is a measurement that indicates how much airflow can pass through a valve.
No.

of
Flow
Ports
Inlet
Size
Outlet
Size
Exhaust
Connection
Type

Max.

Flow


Rate,

scfm
@ 100 psi
Flow
Coefficient


(Cv)

Pressure


Range,


psi
Vacuum
Rating

Lg.

Wd.

Ht.

Dia.

Mounting
Fasteners
Included
Each

Threaded Female Inlet × Threaded Female Outlet

Hand Return Actuation

B
4

3/8

NPT

3/8

NPT

Threaded
38.85
1.1
0-140
Not Rated
5

7/8

"
2

7/8

"
4

1/8

"
1

5/8

"
No
0000000
000000