Smoke Detectors for HVAC Systems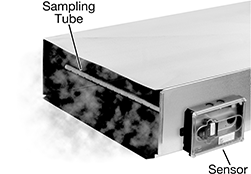 When there's smoke in your ducts, these smoke detectors trigger your HVAC system to shut down, preventing the smoke from circulating. Compatible with most alarm systems, they have standard RJ45 connections that snap on to your wiring, so you don't have to connect individual wires to terminals. You can check if these smoke detectors are working as expected using their test/reset switch. All are UL and C-UL listed and FM approved, so they meet stringent safety standards.
Sensors measure changes in the air flowing through, so they recognize when there's a rapid change in conditions, such as smoke from a fire. This process, known as differential sensing, prevents accumulating dust and debris from triggering a false alarm. Differential sensing only works if air is moving through your ducts between 100 and 4,000 fpm.
Controllers send signals from sensors to your fire alarm control panel, which can be programmed to close your HVAC dampers when there's smoke. Each controller connects up to two sensors, so you can monitor two sections of ductwork with a single controller.
The sensor and controller units come with one controller and one sensor, but you can connect a second sensor to cover another spot in your HVAC system.
These sensors require sampling tubes (sold separately) to bring in air from the duct. The sampling tube mounts inside the duct but needs to connect to the sensor, which mounts to the duct's exterior, so you'll have to drill a hole using the included template. For duct up to 36" wide, the sampling tube's length should be 2/3 the width of the duct.
If your smoke detectors are hard to access, use remote test stations (sold separately) to check that they're working properly from a convenient location.
Products cannot be sold to Canada due to import regulations.