Automatic Door Switches

3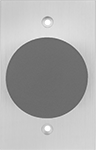 4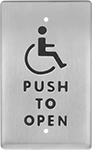 5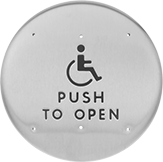 6

7

8
Hardwire these switches to automatic door openers, electromagnetic locks, and electric strikes to open doors with the touch of a button or wave of a hand. Mount them to electrical boxes or surface-mount boxes (sold separately). Instant-open switches provide immediate access. Time-delay switches allow time to reach the door before it opens.
Style 1-7 switches operate with the touch of a button. Style 7 switches are 36 in. tall, so they're easy to push with a foot, cane, crutch, or other device.
Style 8 switches operate with the wave of your hand to reduce the spread of germs. They have an indicator light that changes color when the switch is activated, a selectable unlock time of 1-63 seconds, and a secondary switch that releases doors in the event of a power failure.
For technical drawings and 3-D models, click on a part number.

3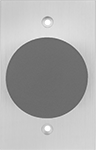 4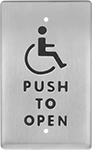 5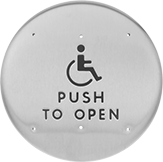 6

7
Style
Mounting
Location
Voltage

Ht.

Wd.

Dia.

Ht.

Wd.

Dia.

Material
Specifications
Met

Each
Each
Each

Push Button

3
Wall
24V DC
4

1/2

"
2

3/4

"
__
__
__
1

5/8

"
Red Plastic
CSA Certified
UL Listed

00000000
000000
00000000
000000
000000
00
4
Wall
24V DC
4

3/4

"
3"
__
__
__
2

3/8

"
Red Plastic
CSA Certified
UL Listed

00000000
000000
00000000
00000
000000
00
5
Wall
250V AC
4

1/2

"
2

3/4

"
__
4

1/2

"
2

3/4

"
__
304 Stainless Steel
CSA Certified
UL Listed

00000000
00000
00000000
00000
00000000
0000000
6
Wall
250V AC
__
__
4

1/2

"
__
__
4

1/2

"
304 Stainless Steel
CSA Certified

00000000
00000
00000000
00000
00000000
000000
6
Wall
250V AC
__
__
6"
__
__
6"
304 Stainless Steel
CSA Certified
UL Listed

00000000
00000
00000000
00000
00000000
000000
7
Post, Wall
48V DC, 120V AC, 250V AC
36"
6"
__
36"
2

1/2

"
__
Aluminum
__
00000000
000000
000000
00
00000000
000000