Choosing an Electrical Switch
Limit Switches

A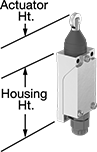 B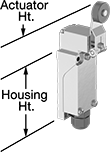 C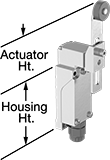 D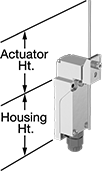 E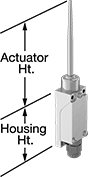 F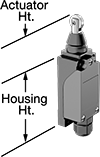 G
Often used on conveyor systems and bin filling operations, these switches have the rapid-closing action of a snap-acting switch, but have a larger actuator for large objects. When an object in motion comes into contact with the actuator, it sends a signal to open or close a circuit. All are rated IP67 and NEMA 13 for protection from corrosion, oil/coolant spraying, and temporary submersion.
Styles D and E have an actuator that allows you to adjust its height, making it easier to align switch with the target during installation.
For technical drawings and 3-D models, click on a part number.
Style

No.

of
Circuits
Controlled
Switch
Starting
Position
Switch
Action
Industry
Designation
Switching
Current @
Voltage

Max.


Voltage
Operating


Temp.




Range,

°F

Actuator


Ht.

Wire
Connection
Type

No.


of
Terminals
For

Max.


Cable
OD

Lg.

Ht.

Dp.

Housing
Material
Each

Plunger Actuator Style

A
1
1 Off (Normally Open) or 1 On (Normally Closed)
Springs Back (Momentary)
SPDT
10 A @ 380 V AC, 220 V DC
380V AC
220V DC
-4° to 158°
0.9"
Screw Terminals
4
0.25"
1.1"
2.5"
1"
Zinc
000000
000000

Roller Plunger Actuator Style

B
1
1 Off (Normally Open) or 1 On (Normally Closed)
Springs Back (Momentary)
SPDT
10 A @ 380 V AC, 220 V DC
380V AC
220V DC
-4° to 158°
1.3"
Screw Terminals
4
0.25"
1.1"
2.5"
1"
Zinc
000000
00000

Roller Lever Actuator Style

C
1
1 Off (Normally Open) or 1 On (Normally Closed)
Springs Back (Momentary)
SPDT
10 A @ 380 V AC, 220 V DC
380V AC
220V DC
-4° to 158°
1.9"
Screw Terminals
4
0.25"
1.1"
2.5"
1"
Zinc
000000
00000
D
1
1 Off (Normally Open) or 1 On (Normally Closed)
Springs Back (Momentary)
SPDT
10 A @ 380 V AC, 220 V DC
380V AC
220V DC
-4° to 158°
1.9"-3.4"
Screw Terminals
4
0.25"
1.1"
2.5"
1"
Zinc
000000
00000

Rod Actuator Style

E
1
1 Off (Normally Open) or 1 On (Normally Closed)
Springs Back (Momentary)
SPDT
10 A @ 380 V AC, 220 V DC
380V AC
220V DC
-4° to 158°
1.5"-5"
Screw Terminals
4
0.25"
1.1"
2.5"
1"
Zinc
000000
00000

Wobble Stick Actuator Style

F
1
1 Off (Normally Open) or 1 On (Normally Closed)
Springs Back (Momentary)
SPDT
10 A @ 380 V AC, 220 V DC
380V AC
220V DC
-4° to 158°
3.8"
Screw Terminals
4
0.25"
1.1"
2.5"
1"
Zinc
000000
00000

Cross Roller Plunger Actuator Style

G
1
1 Off (Normally Open) or 1 On (Normally Closed)
Springs Back (Momentary)
SPDT
10 A @ 380 V AC, 220 V DC
380V AC
220V DC
-4° to 158°
1.5"
Screw Terminals
4
0.25"
1.1"
2.5"
1"
Zinc
000000
00000