Clamp holding workpiece
Tighten the spring-loaded socket head cap screw on these clamps to hold your workpiece from above. Also known as swing clamps, you can rotate the hook out of the way when the screw is loose. Install these clamps in a drilled hole for maximum rigidity.
Add mounting blocks to rotate the clamp's hook consistently—these blocks have a stop every 90°. They're also useful if you don't have an easy mounting location for the fixture clamp.
For technical drawings and 3-D models, click on a part number.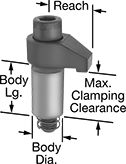 Mounting Block
Max.


Clamping
Clearance
Holding


Capacity,




lbs.

Reach

Lg.

Dia.

Size

Lg.

Size
Style

Material
Each
Each

7/8

"
4,800

11/16

"
1

3/8

"

5/8

"

5/16

"-18

1

3/4

"

1/4

"
Hex

Steel
0000000
000000
000000
00

29/32

"
2,200
1"
1

3/8

"

3/4

"

5/16

"-18

2"

1/4

"
Hex

Black-Oxide Steel
0000000
00000
0000000
000000
1

17/32

"
2,700
2"
2

1/2

"
1"

1/2

"-13

3"

3/8

"
Hex

Black-Oxide Steel
0000000
00000
0000000
00000
1

17/32

"
3,700
2"
2

7/8

"
1

1/4

"

5/8

"-11

3

1/4

"

1/2

"
Hex

Black-Oxide Steel
0000000
000000
0000000
000000
1

5/8

"
6,400
1"
2

1/4

"

7/8

"

3/8

"-16

3"

5/16

"
Hex

Steel
0000000
00000
000000
00
1

5/8

"
12,000
1"
2

1/4

"

7/8

"

1/2

"-13

3"

3/8

"
Hex

Steel
0000000
00000
000000
00
1

13/16

"
17,000
1

7/16

"
2

3/4

"
1

1/8

"

5/8

"-11

3

1/2

"

1/2

"
Hex

Steel
0000000
00000
000000
00