How to

Identify and Measure Fittings
Pipe size is an industry designation, not the actual size. View information about how to measure threaded and unthreaded pipe and pipe fittings.
37° Flared

Fittings for Stainless Steel Tubing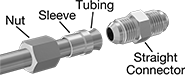 Tubing:

Use with welded or seamless 304 or 316 stainless steel that meets ASTM

A213,

ASTM

A249,

or

ASTM A269

Specifications

Met:

ISO

8434,

SAE

J514,

except fittings with BSPP and BSPT threads meet SAE J514 only
Also known as JIC (Joint Industrial Council) fittings, these provide a tight metal-to-metal seal on tubing that is flared to 37°. They are 316 stainless steel for excellent corrosion resistance. Fittings require a nut and a sleeve (ferrule) for each tube end. Nuts and sleeves are sold separately.
For technical drawings and 3-D models, click on a part number.