Design-Your-Own

Air-Powered

Syringes
Use these components to create an air-powered dispensing system.
Adapters convert taper tip and luer lock tip plastic syringes into air-powered dispensing syringes. They have a gasket seal and a 360° swivel for easy operation. Adapters include a 6-ft. hose to connect a foot pedal.
Foot pedals control the amount of liquid released. You can adjust the air pressure to regulate the amount released. Foot pedal with vacuum knob stops any drips after foot pedal is released.
Adapter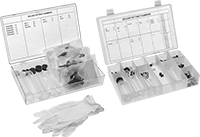 Adapter Kit
Number
of Pieces
Includes
Each
117
4 Adapters (For 3-, 5-, 10-, 30-ml syringes)
4 Adapter Gaskets
18 Syringes
32 Syringe Pistons
35 Dispensing Needles
12 Dispensing Tips
9 Caps
2-oz. Squeeze Bottle with Luer Lock Connection
Inline Air Hose Filter
Disposable Gloves
00000000
0000000

Adapter,
Syringe,
and
Syringe Holder
(Sold Separately)