Dispensing Guns for Syringes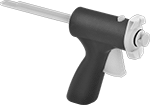 The ergonomic design helps reduce fatigue when dispensing one-part adhesives, sealants, and fluids. Use with a syringe barrel (sold separately).
For technical drawings and 3-D models, click on a part number.
Controlled-Flow

Dispensing Guns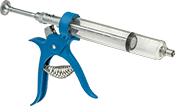 Blue Plastic Trigger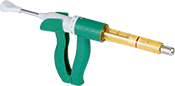 Green Plastic Trigger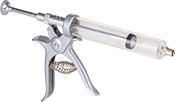 Aluminum Trigger
Each pull of the trigger dispenses a set amount of liquid, making these guns useful for repeated dispensing applications.
Guns with a plastic trigger are lighter in weight than those with an aluminum trigger.
Guns with an aluminum trigger are more durable than those with a plastic trigger, which extends the life of the guns.
Connection
Type
ml

fl.




oz.

Flow


Rate,




ml/stroke

Graduation
Marks
Material
Color
Trigger
Color
Piston
Material

O-Ring


Material
Tip
Material
Features
Includes
Each

Nylon Plastic Triggers

Luer Lock
50
1.7
1-5
2.5 ml
Polypropylene Plastic
Clear
Blue
Nickel-Plated Brass
Buna-N Rubber
Nickel-Plated Brass
Removable Barrel
Replacement O-Ring
000000
000000

Polypropylene Plastic Triggers

Luer Lock
25
0.8
0.25-2.5
0.5 ml
Polyester Plastic
Amber
Green
Nickel-Plated Brass
Silicone Rubber
Nickel-Plated Brass
Dosage Adjustment Dial (0.25 ml Increments), Removable Barrel
4 Pull Knob Inserts (Red, Blue, Green, Yellow)
000000
00000

Aluminum Triggers

Luer Lock
50
1.7
1-5
2.5 ml
Polypropylene Plastic
Clear
__
Nickel-Plated Brass
Buna-N Rubber
Nickel-Plated Brass
Removable Barrel
Replacement O-Ring
000000
00000