Glass Syringes with Luer Lock Connection

Designed for dispensing tiny quantities, these glass syringes are often used in gas chromatography applications. Attach a needle with a luer lock connection to dispense contents.
ml

oz.

Graduation
Marks
OD
ID

Lg.

Material
Piston Material
Autoclavable
Each

Luer Lock Connection

Clear

0.1
0.003
0.001 ml
0.31"
0.06"
3

7/16

"
Borosilicate Glass
PTFE Plastic
Yes
0000000
000000
Micropipettes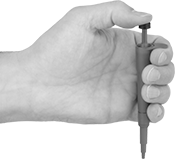 These fixed-volume micropipettes dispense a small amount of liquid for speedy, routine dispensing jobs. Plunger tip is color-coded by capacity. They require a tip (sold separately).