T-Slotted

Framing

Caps,

Covers,

and Seals
Seal T-slots, rail ends, and gaps between rails to keep out dust, debris, and other contaminants.
For technical drawings and 3-D models, click on a part number.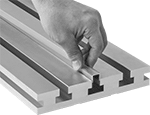 Prevent chips, debris, and small parts from falling into T-slots. These covers snap securely into T-slots but can be easily removed to change your table setup. They can be cut to length.