T-Slotted

Framing Lighting

Strip Light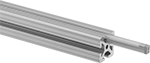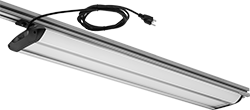 Workbench Light
Illuminate workstations, enclosures, and machines.
Strip lights are often used under shelves. They are supplemental to your main light source.
Concealed lights offer a finished look. Snap-in concealed lights install by pressing them into a T-slot. Slide-in concealed lights mount inside the T-slot to stay out of the way. Use a connecting cable (not included) to string up to six lights together.
Workbench lights have a durable, sealed housing to withstand dusty environments.
For technical drawings and 3-D models, click on a part number.
Single
Double
and
Quad
Triple

Brightness,


lumens

Lg.

Voltage
Wattage
Material
Environmental
Rating
Includes
Mounting
Fasteners
Included
Each

For LED Bulbs

Strip

Light—

Two-Prong

Plug

1

1/2

", 40mm
3", 80mm
4

1/2

"
155-390
12

1/8

"
120V AC
5W
Aluminum
__
6" Connecting Cable
Yes
00000000
000000
1

1/2

", 40mm
3", 80mm
4

1/2

"
330-660
19"
120V AC
7W
Aluminum
__
6" Connecting Cable
Yes
00000000
000000

Snap-In

Concealed

Light—

Hardwire

1

1/2

", 40mm
3", 80mm
4

1/2

"
1,200
19

11/16

"
24V DC
7.5W
Aluminum
IP55
__
__
0000000
00000
1

1/2

", 40mm
3", 80mm
4

1/2

"
1,200
19

11/16

"
120V AC, 240V AC
7.5W
Aluminum
IP55
Power Supply
__
0000000
000000
1

1/2

", 40mm
3", 80mm
4

1/2

"
1,200
39

3/8

"
24V DC
15W
Aluminum
IP55
__
__
0000000
000000
1

1/2

", 40mm
3", 80mm
4

1/2

"
1,200
39

3/8

"
120V AC, 240V AC
15W
Aluminum
IP55
Power Supply
__
0000000
000000

Slide-In

Concealed

Light—

Three-Prong

Plug

1

1/2

", 40mm
3", 80mm
4

1/2

"
460
12"
24V DC
12W
Aluminum
IP50

__
__
00000000
000000
1

1/2

", 40mm
3", 80mm
4

1/2

"
1,380
36"
24V DC
12W
Aluminum
IP50

__
__
00000000
000000

Workbench

Light—

Three-Prong

Plug

30mm, 1

1/2

", 40mm
60mm, 3", 80mm
4

1/2

"
1,250
25

7/8

"
120V AC
18W
Aluminum
IP20

__
Yes
0000000
000000
30mm, 1

1/2

", 40mm
60mm, 3", 80mm
4

1/2

"
1,250
37

5/8

"
120V AC
26W
Aluminum
IP20

__
Yes
0000000
000000
30mm, 1

1/2

", 40mm
60mm, 3", 80mm
4

1/2

"
1,500
49

1/2

"
120V AC
33W
Aluminum
IP20

__
Yes
0000000
000000