T-Slotted

Framing Bumpers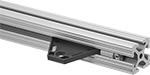 Concealed Bumper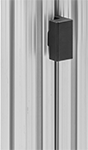 Door Bumper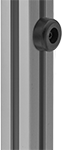 Bumpers cushion doors and other moving parts to prevent damage and reduce noise.
Concealed bumpers mount inside a T-slot to gently stop glides and hangers.
Door bumpers require a gap so doors will close properly. The gap is the distance between the door and the frame when the door is closed.
Twist-on bumpers install without fasteners.
For technical drawings and 3-D models, click on a part number.
Single
Double
and
Quad
Triple
OD

Lg.

Color
Material
Bumper
Material
Required
Door
Gap
Mounting
Fasteners
Included
Each

Concealed Bumper

1

1/2

", 40mm
3", 80mm
4

1/2

"
__
1

9/16

"
Silver
Rubber
__
__
Yes
00000000
000000

Door Bumper

1

1/2

", 40mm
3", 80mm
4

1/2

"
__
2

1/8

"
Black
Plastic
Rubber

3/16

"-

1/4

"
Yes
00000000
00000
45mm
90mm
135mm
__
2

1/8

"
Black
Plastic
Rubber

3/16

"-

1/4

"
Yes
00000000
00000
1"
2"
3"
1"
__
Black
Rubber
__
__
Yes
00000000
0000
1

1/2

"
3"
4

1/2

"
1

1/2

"
__
Black
Rubber
__
__
Yes
00000000
0000
25mm, 30mm
50mm, 60mm
75mm
1"
__
Black
Rubber
__
__
Yes
0000000
0000
40mm, 45mm
80mm, 90mm
120mm
1

1/2

"
__
Black
Rubber
__
__
Yes
00000000
0000
1

1/2

", 40mm
3", 80mm
4

1/2

"
1

7/16

"
__
Black
Plastic
__
__
__
00000000
0000
20mm
40mm
60mm

3/4

"
__
Black
Plastic
__
__
__
00000000
0000
30mm
60mm
90mm
1

3/16

"
__
Black
Plastic
__
__
__
00000000
0000