T-Slot Framing Component

T-

Slot Framing
Component
Show
System of Measurement

System of Measurement

DFARS (Defense Acquisition Regulations Supplement)

DFARS

(Defense

Acquisition

Regulations

Supplement)
Mounting Hardware Included

Mounting Hardware Included
REACH (Registration, Evaluation, Authorization and Restriction of Chemicals)

REACH

(Registration,




Evaluation,

Authorization
and Restriction of

Chemicals)
RoHS (Restriction of Hazardous Substances)

RoHS

(Restriction

of
Hazardous

Substances)
Miniature
T-Slotted

Framing and Fittings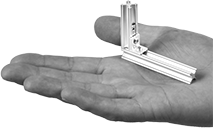 Build test fixtures, prototypes, and other small structures with this miniature version of T-slotted framing and fittings. The framing has continuous T-slots for attaching fittings with the included mounting fasteners.
For technical drawings and 3-D models, click on a part number.
Circuit Board Standoff Set for Single Rails

Installed

Installation View

Circuit board standoff sets attach small circuit boards to framing. To affix a standoff to a rail, slide a nut plate (sold separately) into the T-slot of the rail. Next, position two washers on top of the rail over the nut-plate mounting hole. Then, insert the standoff into the washers and twist it into the nut-plate mounting hole to secure. The circuit board snaps onto the standoff.
For Rail


Ht.,

mm

Ht.,


mm
Material
Mounting
Hardware Included
Includes
Each
10
3.2
Plastic
Yes
4 Standoffs, 8 Nylon Washers
0000000
00000