T-Slotted

Framing Mounting Brackets
Attach sensors, tubes, and other components to T-slotted framing rails and structures.
For technical drawings and 3-D models, click on a part number.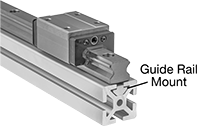 Shown Installed
Guide rail mounts slide inside the T-slot and are compatible with any guide rail that has M4 mounting holes that are 60 mm apart center-to-center. Attach a guide rail to the mount with screws (not included), and tighten the screws to hold the mount in place.
Single
Double
and
Quad
Triple

Wd.

Lg.

Thick.

Color
Material

No.


of

Center-to-Center,


mm
Thread
Size
Fasteners
Included
Each
1

1/2

", 40mm
60mm, 3", 80mm
4

1/2

"

5/8

"
6

5/16

"

3/8

"
Silver
Anodized Aluminum
3
60
M4 × 0.7mm
No
00000000
000000
1

1/2

", 40mm
60mm, 3", 80mm
4

1/2

"

5/8

"
8

11/16

"

3/8

"
Silver
Anodized Aluminum
4
60
M4 × 0.7mm
No
00000000
00000
1

1/2

", 40mm
60mm, 3", 80mm
4

1/2

"

5/8

"
11"

3/8

"
Silver
Anodized Aluminum
5
60
M4 × 0.7mm
No
00000000
00000
1

1/2

", 40mm
60mm, 3", 80mm
4

1/2

"

5/8

"
13

3/8

"

3/8

"
Silver
Anodized Aluminum
6
60
M4 × 0.7mm
No
00000000
00000
1

1/2

", 40mm
60mm, 3", 80mm
4

1/2

"

5/8

"
18

1/8

"

3/8

"
Silver
Anodized Aluminum
8
60
M4 × 0.7mm
No
00000000
00000
1

1/2

", 40mm
60mm, 3", 80mm
4

1/2

"

5/8

"
25

3/16

"

3/8

"
Silver
Anodized Aluminum
11
60
M4 × 0.7mm
No
00000000
00000
1

1/2

", 40mm
60mm, 3", 80mm
4

1/2

"

5/8

"
32

1/4

"

3/8

"
Silver
Anodized Aluminum
14
60
M4 × 0.7mm
No
00000000
00000