T-Slotted

Framing

Slides,

Tracks,

and Rollers
Slide drawers, panels, and doors with these tracks and rollers.
For technical drawings and 3-D models, click on a part number.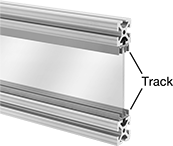 Track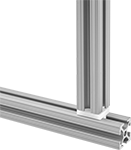 Tracks include a top and bottom track that snap into T-slots and don't require fasteners. They allow panels to slide smoothly along the track after the frame is assembled.
Glides allow smooth travel along a T-slot. They also rotate 360° to allow rails and panels to pivot. To install rail-to-rail glides, tap a hole in the end of the rail and screw in the glide. To install rail-to-panel glides, slide them into the end of the rail's T-slot.
Single

Double,


Quad
Triple

Lg.

For

Max.

No.


of Panels
For

Max.


Panel


Thick.

Color
Material
Mounting
Fasteners
Included
Each

Track

1"
2"
3"
4ft.
2

1/4

"
Silver
Anodized Aluminum
__
000000000
000000
1

1/2

"
3"
4

1/2

"
4ft.
3

1/4

"
Silver
Anodized Aluminum
__
00000000
00000
40mm
80mm
__
4ft.
3

1/4

"
Silver
Anodized Aluminum
__
00000000
00000
1"
2"
3"
1"
1
__
White
Plastic
Yes
0000000
0000
1

1/2

", 40mm
3", 80mm
4

1/2

"
1

1/2

"
1
__
White
Plastic
Yes
00000000
0000
40mm
80mm
__
1

1/2

"
1
__
Black
Plastic
Yes
00000000
0000
45mm
90mm
__
1

1/2

"
__
__
Black
Plastic
__
00000000
0000