T-Slotted

Framing Panels and Doors
Add panels to T-slotted framing to create machine guards, strip doors, and welding curtains.
For technical drawings and 3-D models, click on a part number.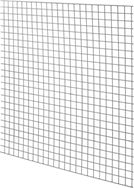 Mesh Panel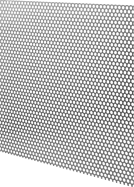 Perforated Panel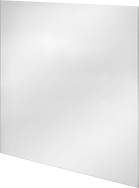 Solid Panel
Acrylic panels are more scratch resistant than polycarbonate plastic for better clarity.
Polycarbonate panels are more impact resistant than acrylic plastic.
Lg.

Wd.

Color
Material

Thick.

Wire


Dia.

Shape

Dia.

Lg.

Wd.

Each

Mesh

2ft.
2ft.
Black
PVC Coated Steel
__

1/8

"
Square
__
1"
1"
000000000
000000
2ft.
2ft.
Yellow
PVC Coated Steel
__

3/16

"
Square
__
1"
1"
000000000
00000
4ft.
2ft.
Black
PVC Coated Steel
__

1/8

"
Square
__
1"
1"
000000000
00000
4ft.
2ft.
Yellow
PVC Coated Steel
__

3/16

"
Square
__
1"
1"
000000000
00000
4ft.
4ft.
Black
PVC Coated Steel
__

1/8

"
Square
__
1"
1"
000000000
00000
4ft.
4ft.
Yellow
PVC Coated Steel
__

3/16

"
Square
__
1"
1"
000000000
00000
8ft.
4ft.
Black
PVC Coated Steel
__

1/8

"
Square
__
1"
1"
000000000
000000
8ft.
4ft.
Yellow
PVC Coated Steel
__

3/16

"
Square
__
1"
1"
000000000
000000

Perforated

2ft.
2ft.
Silver
Anodized Aluminum

1/8

"
__
Round

3/8

"
__
__
000000000
00000
4ft.
2ft.
Silver
Anodized Aluminum

1/8

"
__
Round

3/8

"
__
__
000000000
000000
4ft.
4ft.
Silver
Anodized Aluminum

1/8

"
__
Round

3/8

"
__
__
000000000
000000
8ft.
4ft.
Silver
Anodized Aluminum

1/8

"
__
Round

3/8

"
__
__
000000000
000000

Solid

2ft.
2ft.
Clear
Acrylic Plastic

1/4

"
__
__
__
__
__
000000000
00000
2ft.
2ft.
Clear
Polycarbonate Plastic

1/4

"
__
__
__
__
__
000000000
00000
4ft.
2ft.
Clear
Acrylic Plastic

1/4

"
__
__
__
__
__
000000000
00000
4ft.
2ft.
Clear
Polycarbonate Plastic

1/4

"
__
__
__
__
__
000000000
00000
4ft.
4ft.
Clear
Acrylic Plastic

1/4

"
__
__
__
__
__
000000000
000000
4ft.
4ft.
Clear
Polycarbonate Plastic

1/4

"
__
__
__
__
__
000000000
000000
8ft.
4ft.
Clear
Acrylic Plastic

1/4

"
__
__
__
__
__
000000000
000000
8ft.
4ft.
Clear
Polycarbonate Plastic

1/4

"
__
__
__
__
__
000000000
000000