T-Slotted

Framing

Slides,

Tracks,

and Rollers
Slide drawers, panels, and doors with these tracks and rollers.
For technical drawings and 3-D models, click on a part number.

Rail Slide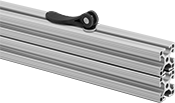 Rail Slide with Cam Handle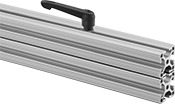 Rail Slide with Clamp Handle
Rail slides allow one rail to slide along another. They can be used to build drawers into systems. Rail slides with handle make it easy to position and lock the slide in place. Cam handle engages when you push down on it. Clamp handle rotates freely when handle is lifted and engages when it's released.
Single

Double,


Quad
Triple

Lg.

Wd.

Color
Carriage
Material
Liner
Material
Required
Installation
Hole

Dia.

Includes
Mounting
Fasteners
Included
Each

Nonlocking

1

1/2

", 40mm
3", 80mm
4

1/2

"
3

1/8

"
1

1/4

"
Gray
Zinc
Acetal Plastic
__
One Carriage with Liners
Yes
00000000
000000

Locking with Cam Handle

1

1/2

", 40mm
3", 80mm
4

1/2

"
3"
1

1/4

"
Gray
Zinc
Acetal Plastic
6mm
One Carriage with Liners
Yes
00000000
00000

Locking with Clamp Handle

1

1/2

", 40mm
3", 80mm
4

1/2

"
3"
1

1/4

"
Gray
Zinc
Acetal Plastic
6mm
One Carriage with Liners
Yes
00000000
00000