T-Slotted

Framing

Slides,

Tracks,

and Rollers
Slide drawers, panels, and doors with these tracks and rollers.
For technical drawings and 3-D models, click on a part number.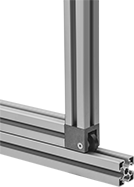 Rail-to-Rail
Roller Wheel

Rail-to-Panel
Roller Wheel
Roller wheels can be used to roll frames, panels, and other components along the length of the T-slot. To install rail-to-rail roller wheels, thread the included self-tapping screws into the end of each rail.
Single

Double,

Quad
Triple

Dia.

Material
Color
Material
Mounting
Fasteners Included
Each
1

1/2

", 40mm
3", 80mm
4

1/2

"
1

1/2

"
Plastic
Silver
Aluminum
Yes
00000000
000000
45mm
90mm
__
1

1/2

"
Plastic
Silver
Aluminum
Yes
00000000
00000
1"
2"
3"
1

1/2

"
Plastic
Black
Plastic
Yes
000000000
00000
1

1/2

"
3"
4

1/2

"
2"
Plastic
Black
Plastic
Yes
00000000
00000
20mm
40mm
__

3/4

"
Plastic
Black
Plastic
Yes
00000000
00000
30mm, 40mm
60mm, 80mm
__
1

1/2

"
Plastic
Black
Plastic
Yes
00000000
00000
45mm
90mm
__
2

1/4

"
Plastic
Black
Plastic
Yes
00000000
00000