T-Slotted

Framing Panels and Doors
Add panels to T-slotted framing to create machine guards, strip doors, and welding curtains.
For technical drawings and 3-D models, click on a part number.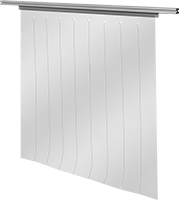 Strip Door
Strip doors are sized to fit short openings and allow access while keeping dirt, dust, and debris out. They snap into the rail.
Single

Double,


Quad
Triple

Wd.

Ht.

No.


of

Wd.

Thick.

Color
Material
Each
1"
2"
3"
36"
36"
9
4"
0.06"
Clear
PVC Plastic

000000000
0000000
1"
2"
3"
48"
36"
12
4"
0.06"
Clear
PVC Plastic

000000000
000000
1"
2"
3"
48"
48"
12
4"
0.06"
Clear
PVC Plastic

000000000
000000
1"
2"
3"
60"
36"
15
4"
0.06"
Clear
PVC Plastic

000000000
000000
1"
2"
3"
60"
60"
15
4"
0.06"
Clear
PVC Plastic

000000000
000000