T-Slotted

Framing Toggle Clamps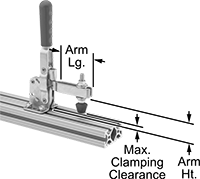 With Handle Vertical When Clamped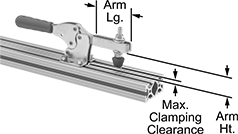 With Handle Horizontal When Clamped
For repetitive workholding, mount these clamps to T-slotted framing to hold and release parts. Clamps have an open arm, so you can move the holding screw to any position along the arm. Position the screw closest to the base to achieve maximum holding capacity. Capacity decreases when the screw is positioned at the end of the arm.
Clamps with horizontal handle position when clamped lock in a low-profile position for more clearance above the clamp.
For technical drawings and 3-D models, click on a part number.
Max.


Clamping
Clearance

Ht.

Lg.

Lg.


When
Clamped

Ht.


When
Clamped
Single
Double
and
Quad
Triple
Holding


Cap.,




lbs.

Mounting
Fasteners
Included
Each

With Handle Vertical When Clamped

15/32

"
1

5/8

"
3

1/16

"
6"
9

7/16

"
1

1/2

", 40mm, 45mm
3", 80mm, 90mm
4

1/2

"
495
Yes
00000000
000000

With Handle Horizontal When Clamped

7/16

"
1

13/16

"
3

3/8

"
11

5/8

"
3

1/4

"
1

1/2

", 40mm, 45mm
3", 80mm, 90mm
4

1/2

"
495
Yes
00000000
00000