High-Strength

7075 Aluminum Sheets and Bars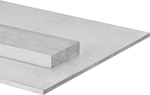 Originally developed for aircraft frames, uses for 7075 aluminum now include keys, gears, and other high-stress parts. It is often used as a replacement for 2024 aluminum because it's stronger and provides similar performance in all other aspects.
Cold-drawn bars are formed by a die for close-tolerance widths, then cut to the lengths listed.
For technical drawings and 3-D models, click on a part number.

Certificates with a traceable lot number are available for these products. Download certificates from ORDER HISTORY after your order ships.
Yield

Strength:

See Table

Hardness:

Brinell 130

(Medium)

Temper:

See Table

Fabrication:

Cold Drawn
Specifications

Met:

ASTM B211
Wd.

Yield
Strength

Temper
Heat
Treatment
Temperature


Range,

°F

1/2

ft.




Lg.

1 ft.




Lg.

2 ft.




Lg.

3 ft.




Lg.

6 ft.




Lg.

1/2"

Thick.

(-0.002" to 0.002" Tolerance)

1"
62,000 psi
T7351
Hardened
-320° to 210°
0000000
2"
62,000 psi
T7351
Hardened
-320° to 210°
0000000

3/4"

Thick.

(-0.003" to 0.003" Tolerance)

1"
62,000 psi
T7351
Hardened
-320° to 210°
0000000
2"
62,000 psi
T7351
Hardened
-320° to 210°
0000000
3"
62,000 psi
T7351
Hardened
-320° to 210°
0000000

1"

Thick.

(-0.003" to 0.003" Tolerance)

1

1/2

"
62,000 psi
T7351
Hardened
-320° to 210°
0000000
2"
62,000 psi
T7351
Hardened
-320° to 210°
0000000
2

1/2

"
62,000 psi
T7351
Hardened
-320° to 210°
0000000
3"
62,000 psi
T7351
Hardened
-320° to 210°
0000000

1"

Thick.

(-0.0025"

to

0.0025"

Tolerance)

4"
62,000 psi
T7351
Hardened
-320° to 210°
0000000

1 1/4"

Thick.

(-0.003" to 0.003" Tolerance)

1

1/2

"
62,000 psi
T7351
Hardened
-320° to 210°
0000000
2"
62,000 psi
T7351
Hardened
-320° to 210°
0000000
2

1/2

"
62,000 psi
T7351
Hardened
-320° to 210°
0000000
3"
62,000 psi
T7351
Hardened
-320° to 210°
0000000

1 1/2"

Thick.

(-0.003" to 0.003" Tolerance)

1

1/2

"
62,000 psi
T7351
Hardened
-320° to 210°
0000000
2"
62,000 psi
T7351
Hardened
-320° to 210°
0000000
2

1/2

"
62,000 psi
T7351
Hardened
-320° to 210°
0000000
3"
62,000 psi
T7351
Hardened
-320° to 210°
0000000
4"
62,000 psi
T7351
Hardened
-320° to 210°
0000000

2"

Thick.

(-0.005" to 0.005" Tolerance)

2"
62,000 psi
T7351
Hardened
-320° to 210°
0000000
2

1/2

"
62,000 psi
T7351
Hardened
-320° to 210°
0000000
3"
62,000 psi
T7351
Hardened
-320° to 210°
0000000
4"
62,000 psi
T7351
Hardened
-320° to 210°
0000000

2 1/2"

Thick.

(-0.008" to 0.008" Tolerance)

2

1/2

"
62,000 psi
T7351
Hardened
-320° to 210°
0000000
3"
62,000 psi
T7351
Hardened
-320° to 210°
0000000

3"

Thick.

(-0.008" to 0.008" Tolerance)

3"
62,000 psi
T7351
Hardened
-320° to 210°
0000000
4"
62,000 psi
T7351
Hardened
-320° to 210°
0000000