Protectors for Robot Teach Pendants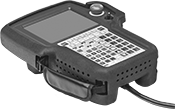 Drop, scrape, or spill on your robot teach pendants (also known as HMIs)—these protectors will guard them, preventing downtime due to damage. With a size and shape tailored to your teach pendant, each protector fits snugly without blocking buttons or other features.
All cases cover the back and sides of teach pendants. Made of Santoprene rubber, they resist water and most water-based cleaners, as well as many industrial coolants, lubricants, and cutting fluids. Their textured surface makes them easy to grip, even when they're wet.
Cases with a mounting handle have a handle that doubles as a hanger, so you can easily mount them on equipment or walls.
Cases with a mounting hook include everything you need to replace the original hook on your electronics cabinet, which may not fit with the case around the pendant.
Cases with a cradle adapter allow teach pendants to fit snugly into their original holder, despite the added bulk of the case.
Screen protectors guard against scratches, oils, and greases without disrupting touch-screen functionality.
Protective Storage Cases with Foam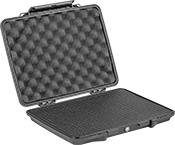 C
With an impact-resistant shell and foam-padded interior, these cases will protect your equipment for years to come.
Style C cases are sized to fit tablets.
Cubed and layered foam allow you to customize the padding for a snug fit. Cases rated IP67 have dust- and watertight lids. Even with continuous airflow, no dust or solid particulates will enter. In addition, these cases will keep water out for at least 30 minutes when under 1 meter of water.
Protective Cases for Mobile Devices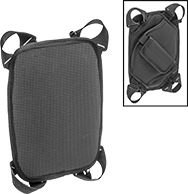 Soft iPad Case
Safeguard your mobile devices from damage.
Soft cases attach with corner loops. They have a padded hand strap for holding your tablet while you work.
For Use With
Material
Color
Features
Includes
Each

Soft

iPad Tablets
Rubber
Black
Padded Hand Strap
Accessory Pouch, Shoulder Strap
0000000
000000
Watertight Tablet Enclosures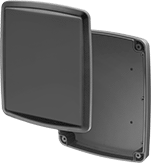 Protect tablet computers, touch displays, and readouts in these specially sized enclosures. They are rated IP65 for protection from water projected from a nozzle.
For technical drawings and 3-D models, click on a part number.
Ht.

Wd.

Dp.

Ht.

Wd.

Dp.

Environment
Environmental
Rating
Specifications
Met
Color
Each

ABS Plastic Enclosures with

Lift-Off

Cover and Screw Closure

3

5/8

"
2

1/8

"
1"
5

1/2

"
4"
1

1/8

"
Washdown
IP65

UL 94 HB

Black
0000000
000000
5

5/8

"
4

1/8

"
1"
7

1/2

"
6"
1

1/8

"
Washdown
IP65

UL 94 HB

Black
0000000
00000
6

3/4

"
4

3/8

"

7/8

"
8

3/4

"
6

1/4

"
1

1/8

"
Washdown
IP65

UL 94 HB

Black
0000000
00000
8"
5

5/8

"
1"
11"
8"
1

1/8

"
Washdown
IP65

UL 94 HB

Black
0000000
00000
9

1/2

"
7

1/4

"

7/8

"
12

3/4

"
9

1/4

"
1

1/8

"
Washdown
IP65

UL 94 HB

Black
0000000
00000