ASME-Code

Compressed Air Storage Tanks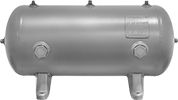 Horizontal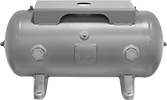 Horizontal with Mounting Plate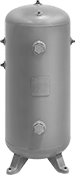 Vertical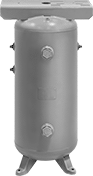 Vertical with Mounting Plate
These tanks have drain ports on the bottom to remove condensation. All other ports can be used as inlets or outlets in any configuration.
Tanks with mounting plate have a platform where you can secure motors, pumps, and other components.
Steel tanks are primed or powder coated for corrosion resistance. Epoxy-lined steel tanks also resist interior corrosion that can result from moisture in your compressed air.
Stainless steel tanks are more corrosion resistant than steel tanks.
Safety regulations restrict sales to the listed jurisdictions/areas.
For technical drawings and 3-D models, click on a part number.
Cap.,




gal.

Max.




Pressure,


psi
Total


No.


of
Gender
Sizes

Lg.

Dia.

Ht.

Wall


Thick.

Temp.




Range,




°F

Cannot
Be
Sold To
Each

Horizontal

Primed Steel

1
200
7
Female

1/2

NPT Port (1 ea.)


3/4

NPT Port (4 ea.)
1 NPT Port (1 ea.)


1/2

NPT Drain Port (1 ea.)
11

3/4

"
6"
8"

1/8

"
-20° to 400°
__
000000
0000000
3
200
7
Female

1/2

NPT Port (1 ea.)


3/4

NPT Port (4 ea.)
1 NPT Port (1 ea.)


1/2

NPT Drain Port (1 ea.)
16

3/4

"
8"
10"

1/8

"
-20° to 400°
__
0000000
000000
5
200
7
Female

1/2

NPT Port (1 ea.)


3/4

NPT Port (4 ea.)
1 NPT Port (1 ea.)


1/2

NPT Drain Port (1 ea.)
16

3/4

"
10"
12"

1/8

"
-20° to 400°
__
0000000
000000
7
200
7
Female

1/2

NPT Port (1 ea.)


3/4

NPT Port (4 ea.)
1 NPT Port (1 ea.)


1/2

NPT Drain Port (1 ea.)
17

3/4

"
12"
14"

1/8

"
-20° to 400°
__
0000000
000000
10
200
7
Female

1/2

NPT Port (1 ea.)


3/4

NPT Port (4 ea.)
1 NPT Port (1 ea.)


1/2

NPT Drain Port (1 ea.)
23

3/4

"
12"
14"

1/8

"
-20° to 400°
__
0000000
000000
13
200
7
Female

1/2

NPT Port (1 ea.)


3/4

NPT Port (2 ea.)
1 NPT Port (1 ea.)
1

1/2

NPT Port (2 ea.)


1/2

NPT Drain Port (1 ea.)
23

3/4

"
14"
16"

1/8

"
-20° to 400°
__
0000000
000000
15
200
7
Female

1/2

NPT Port (1 ea.)


3/4

NPT Port (2 ea.)
1 NPT Port (1 ea.)
1

1/2

NPT Port (2 ea.)


1/2

NPT Drain Port (1 ea.)
26

3/4

"
14"
16"

1/8

"
-20° to 400°
__
0000000
000000
19
200
7
Female

1/2

NPT Port (1 ea.)


3/4

NPT Port (2 ea.)
1

1/2

NPT Port (2 ea.)
2 NPT Port (1 ea.)


1/2

NPT Drain Port (1 ea.)
25

7/8

"
16"
18"

1/8

"
-20° to 400°
__
0000000
000000
24
200
7
Female

1/2

NPT Port (1 ea.)


3/4

NPT Port (2 ea.)
1

1/2

NPT Port (2 ea.)
2 NPT Port (1 ea.)


1/2

NPT Drain Port (1 ea.)
31

7/8

"
16"
18"

1/8

"
-20° to 400°
__
0000000
000000
30
200
7
Female

1/2

NPT Port (1 ea.)


3/4

NPT Port (2 ea.)
1

1/2

NPT Port (2 ea.)
2 NPT Port (1 ea.)


1/2

NPT Drain Port (1 ea.)
31

7/8

"
18"
20"

1/8

"
-20° to 400°
__
0000000
000000
10
200
6
Female

1/2

NPT Port (3 ea.)


3/4

NPT Port (2 ea.)


1/4

NPT Drain Port (1 ea.)
30

5/8

"
10"
11"

1/8

"
-20° to 400°
__
0000000
000000
15
200
6
Female

1/2

NPT Port (3 ea.)


3/4

NPT Port (2 ea.)


1/4

NPT Drain Port (1 ea.)
33

5/8

"
12"
13"

1/8

"
-20° to 400°
__
0000000
000000
20
200
8
Female

1/2

NPT Port (3 ea.)


3/4

NPT Port (2 ea.)
1

1/2

NPT Port (2 ea.)


1/4

NPT Drain Port (1 ea.)
33

5/8

"
14"
16"

1/8

"
-20° to 400°
__
0000000
000000
30
200
9
Female

1/4

NPT Port (1 ea.)


1/2

NPT Port (3 ea.)


3/4

NPT Port (2 ea.)
1

1/2

NPT Port (2 ea.)


1/4

NPT Drain Port (1 ea.)
38

5/8

"
16"
19"

1/8

"
-20° to 400°
__
0000000
000000
60
200
9
Female

1/4

NPT Port (1 ea.)


1/2

NPT Port (1 ea.)


3/4

NPT Port (2 ea.)
1 NPT Port (2 ea.)
2 NPT Port (2 ea.)


1/2

NPT Drain Port (1 ea.)
48

3/4

"
20"
23"

1/8

"
-20° to 400°
__
0000000
000000

Epoxy-Lined

Powder-Coated

Steel

1
200
7
Female

1/2

NPT Port (1 ea.)


3/4

NPT Port (4 ea.)
1

1/2

NPT Port (1 ea.)


1/2

NPT Drain Port (1 ea.)
11

3/4

"
6"
8"

1/8

"
-20° to 400°
__
0000000
000000
2
200
7
Female

1/2

NPT Port (1 ea.)


3/4

NPT Port (4 ea.)
1

1/2

NPT Port (1 ea.)


1/2

NPT Drain Port (1 ea.)
11

3/4

"
8"
10"

1/8

"
-20° to 400°
__
0000000
000000
3
200
7
Female

1/2

NPT Port (1 ea.)


3/4

NPT Port (4 ea.)
1

1/2

NPT Port (1 ea.)


1/2

NPT Drain Port (1 ea.)
16

3/4

"
8"
10"

1/8

"
-20° to 400°
__
0000000
000000
5
200
7
Female

1/2

NPT Port (1 ea.)


3/4

NPT Port (4 ea.)
1

1/2

NPT Port (1 ea.)


1/2

NPT Drain Port (1 ea.)
16

3/4

"
10"
12"

1/8

"
-20° to 400°
__
0000000
000000
7
200
7
Female

1/2

NPT Port (1 ea.)


3/4

NPT Port (4 ea.)
1

1/2

NPT Port (1 ea.)


1/2

NPT Drain Port (1 ea.)
17

3/4

"
12"
14"

1/8

"
-20° to 400°
__
0000000
000000
10
200
7
Female

1/2

NPT Port (1 ea.)


3/4

NPT Port (4 ea.)
1

1/2

NPT Port (1 ea.)


1/2

NPT Drain Port (1 ea.)
25

3/4

"
12"
14"

1/8

"
-20° to 400°
__
0000000
000000
13
200
7
Female

1/2

NPT Port (1 ea.)


3/4

NPT Port (4 ea.)
1

1/2

NPT Port (1 ea.)


1/2

NPT Drain Port (1 ea.)
23

3/4

"
14"
16"

1/8

"
-20° to 400°
__
0000000
000000
15
200
7
Female

1/2

NPT Port (1 ea.)


3/4

NPT Port (2 ea.)
1

1/2

NPT Port (3 ea.)


1/2

NPT Drain Port (1 ea.)
26

3/4

"
14"
16"

1/8

"
-20° to 400°
__
0000000
000000
19
200
7
Female

1/2

NPT Port (1 ea.)


3/4

NPT Port (2 ea.)
1

1/2

NPT Port (2 ea.)
2 NPT Port (1 ea.)


1/2

NPT Drain Port (1 ea.)
25

7/8

"
16"
18"

1/8

"
-20° to 400°
__
0000000
000000
20
200
8
Female

1/2

NPT Port (3 ea.)


3/4

NPT Port (1 ea.)
1

1/2

NPT Port (3 ea.)


1/4

NPT Drain Port (1 ea.)
33

3/4

"
14"
16"

1/8

"
-20° to 400°
__
0000000
000000
24
200
7
Female

1/2

NPT Port (1 ea.)


3/4

NPT Port (2 ea.)
1

1/2

NPT Port (2 ea.)
2 NPT Port (1 ea.)


1/2

NPT Drain Port (1 ea.)
31

7/8

"
16"
18"

1/8

"
-20° to 400°
__
0000000
000000
30
200
7
Female

1/2

NPT Port (1 ea.)


3/4

NPT Port (2 ea.)
1

1/2

NPT Port (2 ea.)
2 NPT Port (1 ea.)


1/2

NPT Drain Port (1 ea.)
31

7/8

"
18"
20"

1/8

"
-20° to 400°
__
0000000
000000
30
200
9
Female

1/4

NPT Port (1 ea.)


1/2

NPT Port (3 ea.)


3/4

NPT Port (1 ea.)
1

1/2

NPT Port (3 ea.)


1/4

NPT Drain Port (1 ea.)
38

3/4

"
16"
19"

1/8

"
-20° to 400°
__
0000000
000000
60
200
9
Female

1/4

NPT Port (1 ea.)


1/2

NPT Port (1 ea.)


3/4

NPT Port (2 ea.)
1 NPT Port (1 ea.)
1

1/2

NPT Port (1 ea.)
2 NPT Port (2 ea.)


1/2

NPT Drain Port (1 ea.)
49"
20"
23"

1/8

"
-20° to 400°
__
0000000
00000000

316 Stainless Steel

1
200
7
Female

1/2

NPT Port (1 ea.)


3/4

NPT Port (4 ea.)
1 NPT Port (1 ea.)


1/2

NPT Drain Port (1 ea.)
12

1/8

"
6"
8"

1/8

"
-20° to 450°
Canada
0000000
00000000
2
200
7
Female

1/2

NPT Port (1 ea.)


3/4

NPT Port (4 ea.)
1 NPT Port (1 ea.)


1/2

NPT Drain Port (1 ea.)
12

1/8

"
8"
10"

1/8

"
-20° to 450°
Canada
0000000
00000000
3
200
7
Female

1/2

NPT Port (1 ea.)


3/4

NPT Port (4 ea.)
1 NPT Port (1 ea.)


1/2

NPT Drain Port (1 ea.)
17

1/8

"
8"
10"

1/8

"
-20° to 450°
Canada
0000000
00000000
5
200
7
Female

1/2

NPT Port (1 ea.)


3/4

NPT Port (4 ea.)
1 NPT Port (1 ea.)


1/2

NPT Drain Port (1 ea.)
17

1/8

"
10"
12"

1/8

"
-20° to 450°
Canada, except Ontario
0000000
00000000
7
200
7
Female

1/2

NPT Port (1 ea.)


3/4

NPT Port (4 ea.)
1 NPT Port (1 ea.)


1/2

NPT Drain Port (1 ea.)
18

1/8

"
12"
14"

1/8

"
-20° to 450°
Canada
0000000
00000000
10
200
7
Female

1/2

NPT Port (1 ea.)


3/4

NPT Port (4 ea.)
1 NPT Port (1 ea.)


1/2

NPT Drain Port (1 ea.)
24

1/8

"
12"
14"

1/8

"
-20° to 450°
Canada
0000000
00000000
13
200
7
Female

1/2

NPT Port (1 ea.)


3/4

NPT Port (2 ea.)
1 NPT Port (1 ea.)
1

1/2

NPT Port (2 ea.)


1/2

NPT Drain Port (1 ea.)
24

1/8

"
14"
16"

1/8

"
-20° to 450°
Canada
0000000
00000000
15
200
7
Female

1/2

NPT Port (1 ea.)


3/4

NPT Port (2 ea.)
1 NPT Port (1 ea.)
1

1/2

NPT Port (2 ea.)


1/2

NPT Drain Port (1 ea.)
27

1/8

"
14"
16"

1/8

"
-20° to 450°
Canada
0000000
00000000
19
200
7
Female

1/2

NPT Port (1 ea.)


3/4

NPT Port (2 ea.)
1

1/2

NPT Port (2 ea.)
2 NPT Port (1 ea.)


1/2

NPT Drain Port (1 ea.)
26

3/8

"
16"
18"

1/8

"
-20° to 450°
Canada
0000000
00000000
24
200
7
Female

1/2

NPT Port (1 ea.)


3/4

NPT Port (2 ea.)
1

1/2

NPT Port (2 ea.)
2 NPT Port (1 ea.)


1/2

NPT Drain Port (1 ea.)
32

3/8

"
16"
18"

1/8

"
-20° to 450°
Canada
0000000
00000000
30
200
7
Female

1/2

NPT Port (1 ea.)


3/4

NPT Port (2 ea.)
1

1/2

NPT Port (2 ea.)
2 NPT Port (1 ea.)


1/2

NPT Drain Port (1 ea.)
32

5/8

"
18"
20"

1/8

"
-20° to 450°
Canada
0000000
00000000

Horizontal with Mounting Plate

Primed Steel

1
200
5
Female

3/4

NPT Port (3 ea.)
1 NPT Port (1 ea.)


1/2

NPT Drain Port (1 ea.)
11

3/4

"
6"
9"

1/8

"
-20° to 400°
__
0000000
000000
2
200
5
Female

3/4

NPT Port (3 ea.)
1 NPT Port (1 ea.)


1/2

NPT Drain Port (1 ea.)
11

3/4

"
8"
11"

1/8

"
-20° to 400°
__
0000000
000000
3
200
5
Female

3/4

NPT Port (3 ea.)
1 NPT Port (1 ea.)


1/2

NPT Drain Port (1 ea.)
16

3/4

"
8"
11"

1/8

"
-20° to 400°
__
0000000
000000
5
200
5
Female

3/4

NPT Port (3 ea.)
1 NPT Port (1 ea.)


1/2

NPT Drain Port (1 ea.)
16

3/4

"
10"
13"

1/8

"
-20° to 400°
__
0000000
000000
7
200
5
Female

3/4

NPT Port (3 ea.)
1 NPT Port (1 ea.)


1/2

NPT Drain Port (1 ea.)
17

3/4

"
12"
15"

1/8

"
-20° to 400°
__
0000000
000000
10
200
5
Female

3/4

NPT Port (3 ea.)
1 NPT Port (1 ea.)


1/2

NPT Drain Port (1 ea.)
23

3/4

"
12"
15"

1/8

"
-20° to 400°
__
0000000
000000
13
200
5
Female

3/4

NPT Port (1 ea.)
1 NPT Port (1 ea.)
1

1/2

NPT Port (2 ea.)


1/2

NPT Drain Port (1 ea.)
23

3/4

"
14"
17"

1/8

"
-20° to 400°
__
0000000
000000
15
200
5
Female

3/4

NPT Port (1 ea.)
1 NPT Port (1 ea.)
1

1/2

NPT Port (2 ea.)


1/2

NPT Drain Port (1 ea.)
26

3/4

"
14"
17"

1/8

"
-20° to 400°
__
0000000
000000
19
200
5
Female

3/4

NPT Port (1 ea.)
1

1/2

NPT Port (2 ea.)
2 NPT Port (1 ea.)


1/2

NPT Drain Port (1 ea.)
25

7/8

"
16"
19"

1/8

"
-20° to 400°
__
0000000
000000
24
200
5
Female

3/4

NPT Port (1 ea.)
1

1/2

NPT Port (2 ea.)
2 NPT Port (1 ea.)


1/2

NPT Drain Port (1 ea.)
31

7/8

"
16"
19"

1/8

"
-20° to 400°
__
0000000
000000
30
200
5
Female

3/4

NPT Port (1 ea.)
1

1/2

NPT Port (2 ea.)
2 NPT Port (1 ea.)


1/2

NPT Drain Port (1 ea.)
31

7/8

"
18"
21"

1/8

"
-20° to 400°
__
0000000
000000
10
200
6
Female

1/2

NPT Port (3 ea.)


3/4

NPT Port (2 ea.)


1/4

NPT Drain Port (1 ea.)
30

5/8

"
10"
13"

1/8

"
-20° to 400°
__
0000000
000000
15
200
6
Female

1/2

NPT Port (3 ea.)


3/4

NPT Port (2 ea.)


1/4

NPT Drain Port (1 ea.)
33

5/8

"
12"
15"

1/8

"
-20° to 400°
__
0000000
000000
20
200
9
Female

1/4

NPT Port (1 ea.)


1/2

NPT Port (5 ea.)
1

1/2

NPT Port (2 ea.)


1/4

NPT Drain Port (1 ea.)
33

5/8

"
14"
18"

1/8

"
-20° to 400°
__
0000000
000000
30
200
9
Female

1/4

NPT Port (1 ea.)


1/2

NPT Port (3 ea.)


3/4

NPT Port (2 ea.)
1

1/2

NPT Port (2 ea.)


1/4

NPT Drain Port (1 ea.)
38

5/8

"
16"
20"

1/8

"
-20° to 400°
__
0000000
000000
60
200
9
Female

1/4

NPT Port (1 ea.)


1/2

NPT Port (1 ea.)


3/4

NPT Port (2 ea.)
1 NPT Port (1 ea.)
2 NPT Port (2 ea.)


1/2

NPT Drain Port (1 ea.)
48

3/4

"
20"
25"

1/8

"
-20° to 400°
__
0000000
000000
80
200
9
Female

1/4

NPT Port (1 ea.)


3/4

NPT Port (1 ea.)
1 NPT Port (2 ea.)
1

1/4

NPT Port (1 ea.)
1

1/2

NPT Port (1 ea.)
2 NPT Port (2 ea.)


3/4

NPT Drain Port (1 ea.)
63

5/8

"
20"
25"

1/8

"
-20° to 400°
__
0000000
00000000
120
200
9
Female

1/4

NPT Port (1 ea.)
1 NPT Port (1 ea.)
1

1/2

NPT Port (4 ea.)
2 NPT Port (2 ea.)


3/4

NPT Drain Port (1 ea.)
68"
24"
30"

1/8

"
-20° to 400°
__
0000000
00000000
200
200
9
Female

1/4

NPT Port (1 ea.)
1 NPT Port (1 ea.)
2 NPT Port (6 ea.)
1 NPT Drain Port (1 ea.)
73"
30"
36"

1/4

"
-20° to 400°
__
0000000
00000000
240
200
9
Female

1/4

NPT Port (1 ea.)
1 NPT Port (1 ea.)
2 NPT Port (6 ea.)
1 NPT Drain Port (1 ea.)
85"
30"
36"

1/4

"
-20° to 400°
__
0000000
00000000

Epoxy-Lined

Powder-Coated

Steel

1
200
5
Female

3/4

NPT Port (3 ea.)
1 NPT Port (1 ea.)


1/2

NPT Drain Port (1 ea.)
11

3/4

"
6"
9"

1/8

"
-20° to 400°
__
0000000
000000
2
200
5
Female

3/4

NPT Port (3 ea.)
1 NPT Port (1 ea.)


1/2

NPT Drain Port (1 ea.)
11

3/4

"
8"
11"

1/8

"
-20° to 400°
__
0000000
000000
3
200
5
Female

3/4

NPT Port (3 ea.)
1 NPT Port (1 ea.)


1/2

NPT Drain Port (1 ea.)
16

3/4

"
8"
11"

1/8

"
-20° to 400°
__
0000000
000000
5
200
5
Female

3/4

NPT Port (3 ea.)
1 NPT Port (1 ea.)


1/2

NPT Drain Port (1 ea.)
16

3/4

"
10"
13"

1/8

"
-20° to 400°
__
0000000
000000
7
200
5
Female

3/4

NPT Port (3 ea.)
1 NPT Port (1 ea.)


1/2

NPT Drain Port (1 ea.)
17

3/4

"
12"
15"

1/8

"
-20° to 400°
__
0000000
000000
10
200
5
Female

3/4

NPT Port (3 ea.)
1 NPT Port (1 ea.)


1/2

NPT Drain Port (1 ea.)
23

3/4

"
12"
15"

1/8

"
-20° to 400°
__
0000000
000000
13
200
5
Female

3/4

NPT Port (1 ea.)
1 NPT Port (1 ea.)
1

1/2

NPT Port (2 ea.)


1/2

NPT Drain Port (1 ea.)
23

3/4

"
14"
17"

1/8

"
-20° to 400°
__
0000000
000000
15
200
5
Female

3/4

NPT Port (1 ea.)
1 NPT Port (1 ea.)
1

1/2

NPT Port (2 ea.)


1/2

NPT Drain Port (1 ea.)
26

3/4

"
14"
17"

1/8

"
-20° to 400°
__
0000000
000000
19
200
5
Female

3/4

NPT Port (1 ea.)
1

1/2

NPT Port (2 ea.)
2 NPT Port (1 ea.)


1/2

NPT Drain Port (1 ea.)
25

7/8

"
16"
19"

1/8

"
-20° to 400°
__
0000000
000000
20
200
9
Female

1/4

NPT Port (1 ea.)


1/2

NPT Port (4 ea.)
1

1/2

NPT Port (3 ea.)


1/4

NPT Drain Port (1 ea.)
33

3/4

"
14"
18"

1/8

"
-20° to 400°
__
0000000
000000
24
200
5
Female

3/4

NPT Port (1 ea.)
1

1/2

NPT Port (2 ea.)
2 NPT Port (1 ea.)


1/2

NPT Drain Port (1 ea.)
31

7/8

"
16"
19"

1/8

"
-20° to 400°
__
0000000
000000
30
200
5
Female

3/4

NPT Port (1 ea.)
1

1/2

NPT Port (2 ea.)
2 NPT Port (1 ea.)


1/2

NPT Drain Port (1 ea.)
31

7/8

"
18"
21"

1/8

"
-20° to 400°
__
0000000
00000000
60
200
9
Female

1/4

NPT Port (1 ea.)


3/4

NPT Port (2 ea.)
1 NPT Port (1 ea.)
1

1/2

NPT Port (2 ea.)
2 NPT Port (1 ea.)


1/2

NPT Drain Port (1 ea.)
49"
20"
25"

1/8

"
-20° to 400°
__
0000000
00000000
80
200
9
Female

1/4

NPT Port (1 ea.)
1 NPT Port (2 ea.)
1

1/2

NPT Port (3 ea.)
2 NPT Port (2 ea.)


3/4

NPT Drain Port (1 ea.)
64"
20"
25"

1/8

"
-20° to 400°
__
0000000
00000000
120
200
9
Female

1/4

NPT Port (1 ea.)
1

1/2

NPT Port (5 ea.)
2 NPT Port (2 ea.)


3/4

NPT Drain Port (1 ea.)
68"
24"
30"

1/8

"
-20° to 400°
__
0000000
00000000
200
200
9
Female

1/4

NPT Port (1 ea.)
1

1/2

NPT Port (1 ea.)
2 NPT Port (6 ea.)
1 NPT Drain Port (1 ea.)
73"
30"
36"

1/4

"
-20° to 400°
__
0000000
00000000
240
200
9
Female

1/4

NPT Port (1 ea.)
1

1/2

NPT Port (1 ea.)
2 NPT Port (6 ea.)
1 NPT Drain Port (1 ea.)
85"
30"
36"

1/4

"
-20° to 400°
__
0000000
00000000

Vertical

1
200
5
Female

1/2

NPT Port (1 ea.)


3/4

NPT Port (2 ea.)
1 NPT Port (1 ea.)


3/4

NPT Drain Port (1 ea.)
__
6"
14"

1/8

"
-20° to 650°
Canada
000000
000000
2
200
5
Female

1/2

NPT Port (1 ea.)


3/4

NPT Port (2 ea.)
1 NPT Port (1 ea.)


3/4

NPT Drain Port (1 ea.)
__
8"
14"

1/8

"
-20° to 650°
Canada
000000
000000
3
200
5
Female

1/2

NPT Port (1 ea.)


3/4

NPT Port (2 ea.)
1 NPT Port (1 ea.)


3/4

NPT Drain Port (1 ea.)
__
8"
19"

1/8

"
-20° to 650°
Canada
000000
000000
5
200
5
Female

1/2

NPT Port (1 ea.)


3/4

NPT Port (2 ea.)
1 NPT Port (1 ea.)


3/4

NPT Drain Port (1 ea.)
__
10"
18"

1/8

"
-20° to 650°
Canada
000000
000000
7
200
5
Female

1/2

NPT Port (1 ea.)


3/4

NPT Port (2 ea.)
1 NPT Port (1 ea.)


3/4

NPT Drain Port (1 ea.)
__
10"
25"

1/8

"
-20° to 650°
Canada
000000
000000
10
200
5
Female

3/4

NPT Port (4 ea.)


1/2

NPT Drain Port (1 ea.)
__
10"
32"

1/8

"
-20° to 650°
Canada
000000
000000
15
200
5
Female

3/4

NPT Port (4 ea.)


1/2

NPT Drain Port (1 ea.)
__
12"
35"

1/8

"
-20° to 650°
Canada
000000
000000
20
200
5
Female

3/4

NPT Port (2 ea.)
1

1/2

NPT Port (2 ea.)


1/2

NPT Drain Port (1 ea.)
__
14"
35"

1/8

"
-20° to 650°
Canada
000000
000000
30
200
8
Female

1/4

NPT Port (1 ea.)


3/4

NPT Port (4 ea.)
1

1/2

NPT Port (2 ea.)


1/2

NPT Drain Port (1 ea.)
__
16"
39

7/8

"

1/8

"
-20° to 400°
__
0000000
000000
60
200
8
Female

1/4

NPT Port (1 ea.)


3/4

NPT Port (4 ea.)
2 NPT Port (2 ea.)


1/2

NPT Drain Port (1 ea.)
__
20"
50

1/2

"

1/8

"
-20° to 400°
__
0000000
000000
80
200
8
Female

1/4

NPT Port (1 ea.)
1

1/4

NPT Port (4 ea.)
2 NPT Port (2 ea.)


1/2

NPT Drain Port (1 ea.)
__
24"
49

1/2

"

1/8

"
-20° to 400°
__
0000000
00000000
120
200
9
Female

1/4

NPT Port (1 ea.)


1/2

NPT Port (1 ea.)
1

1/2

NPT Port (2 ea.)
2 NPT Port (4 ea.)
1

1/2

NPT Drain Port (1 ea.)
__
24"
75"

1/8

"
-20° to 400°
__
0000000
00000000
200
200
9
Female

1/4

NPT Port (1 ea.)


1/2

NPT Port (1 ea.)
1

1/2

NPT Port (1 ea.)
2 NPT Port (5 ea.)
1

1/2

NPT Drain Port (1 ea.)
__
30"
80"

1/4

"
-20° to 400°
__
0000000
00000000
240
200
9
Female

1/4

NPT Port (1 ea.)


1/2

NPT Port (1 ea.)
1

1/2

NPT Port (1 ea.)
2 NPT Port (5 ea.)
1

1/2

NPT Drain Port (1 ea.)
__
30"
92"

1/4

"
-20° to 400°
__
0000000
00000000

Epoxy-Lined

Powder-Coated

Steel

30
200
8
Female

1/4

NPT Port (1 ea.)


3/4

NPT Port (3 ea.)
1

1/2

NPT Port (3 ea.)


1/2

NPT Drain Port (1 ea.)
__
16"
39

7/8

"

1/8

"
-20° to 400°
__
0000000
000000
60
200
8
Female

1/4

NPT Port (1 ea.)


3/4

NPT Port (4 ea.)
2 NPT Port (2 ea.)


1/2

NPT Drain Port (1 ea.)
__
20"
50

1/2

"

1/8

"
-20° to 400°
__
0000000
00000000
80
200
8
Female

1/4

NPT Port (1 ea.)
1

1/4

NPT Port ( 3 ea.)
1

1/2

NPT Port (1 ea.)
2 NPT Port (2 ea.)
1

1/2

NPT Drain Port (1 ea.)
__
24"
49

1/2

"

1/8

"
-20° to 400°
__
0000000
00000000
120
200
9
Female

1/4

NPT Port (1 ea.)


1/2

NPT Port (1 ea.)
1

1/2

NPT Port (2 ea.)
2 NPT Port (4 ea.)
1

1/2

NPT Drain Port (1 ea.)
__
24"
75"

1/8

"
-20° to 400°
__
0000000
00000000
200
200
9
Female

1/4

NPT Port (1 ea.)


1/2

NPT Port (1 ea.)
1

1/2

NPT Port (1 ea.)
2 NPT Port (5 ea.)
1

1/2

NPT Drain Port (1 ea.)
__
30"
80"

1/4

"
-20° to 400°
__
0000000
00000000
240
200
9
Female

1/4

NPT Port (1 ea.)


1/2

NPT Port (1 ea.)
1

1/2

NPT Port (1 ea.)
2 NPT Port (5 ea.)
1

1/2

NPT Drain Port (1 ea.)
__
30"
92"

1/4

"
-20° to 400°
__
0000000
00000000

Vertical with Mounting Plate

30
200
8
Female

1/4

NPT Port (1 ea.)


3/4

NPT Port (4 ea.)
1

1/2

NPT Port (2 ea.)


1/2

NPT Drain Port (1 ea.)
__
16"
41

3/8

"

1/8

"
-20° to 400°
__
0000000
00000000
60
200
8
Female

1/4

NPT Port (1 ea.)


3/4

NPT Port (4 ea.)
2 NPT Port (2 ea.)


1/2

NPT Drain Port (1 ea.)
__
20"
52"

1/8

"
-20° to 400°
__
0000000
00000000
80
200
8
Female

1/4

NPT Port (1 ea.)
1

1/4

NPT Port (4 ea.)
2 NPT Port (2 ea.)
1

1/2

NPT Drain Port (1 ea.)
__
24"
51"

1/8

"
-20° to 400°
__
0000000
00000000
120
200
8
Female

1/2

NPT Port (1 ea.)
2 NPT Port (6 ea.)
1

1/2

NPT Drain Port (1 ea.)
__
30"
57

7/8

"

1/4

"
-20° to 400°
__
0000000
00000000

Epoxy-Lined

Powder-Coated

Steel

30
200
8
Female

1/4

NPT Port (1 ea.)


3/4

NPT Port (4 ea.)
1

1/2

NPT Port (2 ea.)


1/2

NPT Drain Port (1 ea.)
__
16"
41

3/8

"

1/8

"
-20° to 400°
__
0000000
00000000
60
200
8
Female

1/4

NPT Port (1 ea.)


3/4

NPT Port (3 ea.)
1

1/2

NPT Port (1 ea.)
2 NPT Port (2 ea.)


1/2

NPT Drain Port (1 ea.)
__
20"
52"

1/8

"
-20° to 400°
__
0000000
00000000
80
200
8
Female

1/4

NPT Port (1 ea.)
1

1/4

NPT Port ( 3 ea.)
1

1/2

NPT Port (1 ea.)
2 NPT Port (2 ea.)
1

1/2

NPT Drain Port (1 ea.)
__
24"
51"

1/8

"
-20° to 400°
__
0000000
00000000
120
200
8
Female

1/2

NPT Port (1 ea.)
2 NPT Port (6 ea.)
1

1/2

NPT Drain Port (1 ea.)
__
30"
57

7/8

"

1/4

"
-20° to 400°
__
0000000
00000000