Sanitary Stainless Steel Drums
Store food, beverage, and pharmaceutical products in these drums, which have a sanitary design. Smooth, welded seams and a polished, seamless interior prevent product build-up and bacteria growth. Their silicone seal is FDA compliant for direct contact with food. To help you clean around and underneath these drums, they have a raised bottom. They're also stackable to save space in your facility.
304 stainless steel drums have very good corrosion resistance.
316 stainless steel drums are more corrosion resistant than 304 stainless steel drums.
Fiber Drums
Store dry materials in these lightweight drums.
Round with Fiber Lid with No Openings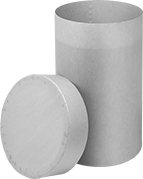 Capacity,




gal.

Weight


Capacity,

lbs.

Dia.

Ht.

Bottom
ID
Color

Max.

Temp.

Space Saving
Features
Each

Fiber

13
225
14

1/2

"
19

1/2

"
14"
Beige
Not Rated
Stackable
00000000
000000
Carboys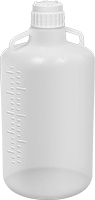 G
Style G have thick walls for durability.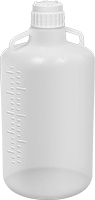 G
Capacity

Dia.

Ht.

Mouth
OD
Graduation
Marks
Color
Type
Material
Autoclavable

Max.




Temp.,




°F

Each

LDPE Plastic

13 gal.
15"
26

3/4

"
3

1/4

"

1/4

gal., 1 L
Semi-Clear
Threaded
Polypropylene Plastic
No
175°
000000
0000000
ASME-Code

Compressed Air Storage Tanks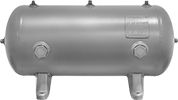 Horizontal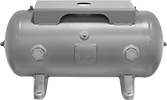 Horizontal with Mounting Plate
These tanks have drain ports on the bottom to remove condensation. All other ports can be used as inlets or outlets in any configuration.
Tanks with mounting plate have a platform where you can secure motors, pumps, and other components.
Steel tanks are primed or powder coated for corrosion resistance. Epoxy-lined steel tanks also resist interior corrosion that can result from moisture in your compressed air.
Stainless steel tanks are more corrosion resistant than steel tanks.
Safety regulations restrict sales to the listed jurisdictions/areas.
For technical drawings and 3-D models, click on a part number.
Cap.,




gal.

Max.




Pressure,


psi
Total


No.


of
Gender
Sizes

Lg.

Dia.

Ht.

Wall


Thick.

Temp.




Range,




°F

Cannot
Be
Sold To
Each

Horizontal

Primed Steel

13
200
7
Female

1/2

NPT Port (1 ea.)


3/4

NPT Port (2 ea.)
1 NPT Port (1 ea.)
1

1/2

NPT Port (2 ea.)


1/2

NPT Drain Port (1 ea.)
23

3/4

"
14"
16"

1/8

"
-20° to 400°
__
0000000
0000000

Epoxy-Lined

Powder-Coated

Steel

13
200
7
Female

1/2

NPT Port (1 ea.)


3/4

NPT Port (4 ea.)
1

1/2

NPT Port (1 ea.)


1/2

NPT Drain Port (1 ea.)
23

3/4

"
14"
16"

1/8

"
-20° to 400°
__
0000000
000000

316 Stainless Steel

13
200
7
Female

1/2

NPT Port (1 ea.)


3/4

NPT Port (2 ea.)
1 NPT Port (1 ea.)
1

1/2

NPT Port (2 ea.)


1/2

NPT Drain Port (1 ea.)
24

1/8

"
14"
16"

1/8

"
-20° to 450°
Canada
0000000
00000000

Horizontal with Mounting Plate

Primed Steel

13
200
5
Female

3/4

NPT Port (1 ea.)
1 NPT Port (1 ea.)
1

1/2

NPT Port (2 ea.)


1/2

NPT Drain Port (1 ea.)
23

3/4

"
14"
17"

1/8

"
-20° to 400°
__
0000000
000000

Epoxy-Lined

Powder-Coated

Steel

13
200
5
Female

3/4

NPT Port (1 ea.)
1 NPT Port (1 ea.)
1

1/2

NPT Port (2 ea.)


1/2

NPT Drain Port (1 ea.)
23

3/4

"
14"
17"

1/8

"
-20° to 400°
__
0000000
000000