Sanitary
Easy-Drain

Tanks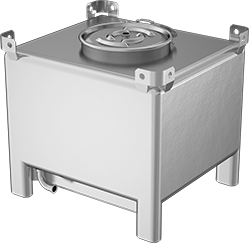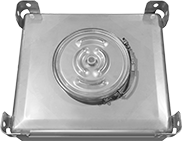 Store and transport liquids in bulk in sanitary environments such as food and pharmaceutical plants. These tanks have a one-piece sloped bottom for easy and complete drainage, a highly polished surface, and continuously welded seams. By leaving no room for liquid to hang around after use, their design prevents bacterial growth. Made of stainless steel, they resist frequent washdowns with harsh sanitizers. They connect with quick-clamp fittings—also known as tri-clamp fittings—so they're easily disassembled for regular cleaning. Also known as intermediate bulk containers (IBCs), these tanks take up less floor space than drums. They can also be stacked up to three high to save additional space, even when full. All meet National Fire Protection Agency Code 30 for use with flammable and combustible liquids.
For technical drawings and 3-D models, click on a part number.
Capacity,




gal.

Width
Depth
Height
Gauge

Weight,




lbs.

Fill
Opening
Diameter
Tube
OD
Fitting
Flange
OD
Leg
Height
Space
Saving
Features
Specifications
Met
Each

304 Stainless Steel

180
42"
48"
29"
10
312
22

1/2

"
2"
2.516"
9"
Stackable
NFPA (National Fire Protection Agency) Code 30
0000000
000000000
Collapsible
Spill-Control

Berms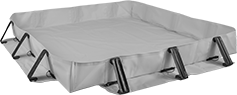 Collapse these large berms when not in use for easy storage. Supports are reinforced with steel and snap up to brace the walls when open.
Capacity,




gal.

Lg.

Wd.

Ht.

Lg.

Wd.

No.

of
Supports
Color

Lg.

Wd.

Ht.

Each

PVC-Coated

Polyester Fabric

180
72"
72"
8"
61"
61"
12
Yellow
24"
20"
6"
0000000
0000000