Bench-Top

Parts Washers for

Water-Based

Solutions
Clean small parts with this compact washer. Turn on the pump to circulate the solution to flow-through brush. Washer has a heater to increase cleaning power. Note: Do not use with flammable liquids.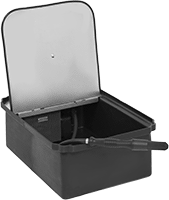 Cap.,




gal.

Max.


Liquid
Level

Lg.

Wd.

Ht.

Lg.

Wd.

Ht.

Max.




Temp.,




°F

Voltage
Material
Features
Each
5

1/2

5"
13

1/4

"
19"
7"
15

1/2

"
21

1/2

"
10

1/2

"
110°
120V AC
Polyethylene Plastic
Heater, Hose with Flow-Through Brush
0000000
000000000
Programmable Heated Ultrasonic Cleaners
Precisely control the cleaning process by setting the temperature and time. Heating cleaning solutions and using the degas function to remove dissolved gases increases their effectiveness. These cleaners use sound waves moving through the solution to create a scrubbing action that removes dirt from crevices and between tightly spaced parts.
Heavy duty baskets have solid sides with a perforated mesh bottom. They're more durable than wire mesh baskets.
Cleaners—Continuous or Timed Cleaning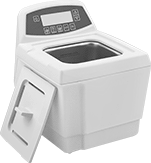 Cap.,




qt.

Lg.

Wd.

Ht.

Lg.

Wd.

Ht.

Frequency,


kHz
Wattage
Voltage

Max.

Timer


Duration,




min.

Features
Includes
Each
22
19

1/2

"
11

1/2

"
6"
23

1/2

"
18

1/4

"
15

3/8

"
40
881
120V AC
90
Timer, Heater, Automatic Shut-Off, Degas Function, Sleep Mode, Drain
Cover
0000000
000000000


For Cleaner


Cap.,

qt.

Cap.,




lbs.

Lg.

Wd.

Lg.

Wd.

Ht.

Mesh
Opening

Wd.

Wire


Dia.

Each

304 Stainless Steel

22
5
18

1/2

"
10

1/2

"
16

1/2

"
8"
4

1/2

"
0.222"
0.028"
0000000
0000000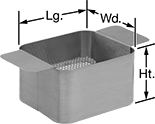 For Cleaner


Cap.,

qt.

Cap.,




lbs.

Lg.

Wd.

Lg.

Wd.

Ht.

Mesh
Opening

Dia.

Each

304 Stainless Steel

22
12
18

1/4

"
10

1/2

"
18

1/4

"
10

1/2

"
4

1/2

"
0.156"
0000000
0000000