DFARS (Defense Acquisition Regulations Supplement)

DFARS

(Defense

Acquisition
Regulations

Supplement)
Outlet Connection Type

Outlet Connection Type
Connectors for Lift Truck Propane Tanks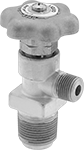 Valve

Valve Connector

Hose Connector
Use a valve, valve connector, and hose connector (each sold separately) to create a complete connection between a propane tank and a lift truck's fuel hose.
Valve permits withdrawal of liquid or vapor. It has an inlet for the propane tank and an outlet for the valve connector.
Valve connector has one end that attaches to the valve and one end that attaches to the hose connector.
Hose connector creates a quick disconnect. One end attaches to the valve connector and the other to the lift-truck fuel hose.
Component
Pipe
Size
Connection
Type
Gender
Pipe
Size
Connection
Type
Gender
Material
Each
Valve

3/4

NPT
Male

3/8

NPT
Male
Brass
00000000
000000
Valve Connector

3/8

NPT
Female
1

1/4

Acme
Male
Brass
00000000
00000
Hose Connector
1

1/4

Acme
Female

1/4

NPT
Female
Brass
00000000
00000