Parts Washers for
Solvent-Based

Solutions
Use these washers with solvent-based cleaning solutions that have a flash point above 105° F. Turn on the pump and solution will flow to the flexible metal spigot. A fusible link closes the cover in the event of a fire. Note: Do not use with flammable liquids.
Washer that agitates moves the cleaning solution around in the tub to loosen dirt as the parts soak. It also has a neoprene hose with pistol-grip nozzle that adjusts the solvent flow from a light spray to a solid stream.
Washer with hardwire electrical connection requires a NEMA 6-15 or compatible plug.
Washers with filter remove large particles to keep the solution cleaner longer.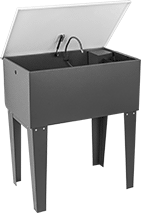 A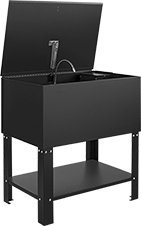 B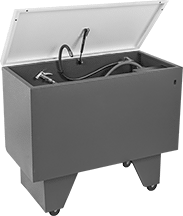 C
Cap.,




gal.

Max.


Liquid
Level

Lg.

Wd.

Ht.

Lg.

Wd.

Ht.

Voltage
Material
Electrical
Connection
Type
Specifications
Met
Features
Each
A
15
6"
29

1/2

"
15

1/2

"
16"
36"
22"
38

1/2

"
120V AC
Steel
Plug
UL Listed

Flexible Spigot, Drain Plug, Safety Cover with Fusible Link, Two Bi-Level Parts Shelves, Filter
0000000
0000000
A
15
6"
29

1/2

"
15

1/2

"
16"
36"
22"
38

1/2

"
240V AC
Steel
Hardwire
UL Listed

Flexible Spigot, Drain Plug, Safety Cover with Fusible Link, Two Bi-Level Parts Shelves, Filter
0000000
000000
A
40
12"
32"
21"
27

1/2

"
36"
22"
57"
120V AC
Steel
Plug
UL Listed

Flexible Spigot, Drain Plug, Safety Cover with Fusible Link, Two Bi-Level Parts Shelves
0000000
000000
B
30
8

1/2

"
35"
23

1/2

"
16"
36"
24

1/2

"
35

1/2

"
120V AC
Steel
Plug
UL Listed

Flexible Spigot, Drain Plug, Safety Cover with Fusible Link, Two Bi-Level Parts Shelves, Filter
0000000
00000000
C
85
16

1/2

"
30"
29"
29

1/2

"
41

1/2

"
29

1/2

"
34"
120V AC
Steel
Plug
__
Flexible Spigot, Drain Plug, Safety Cover with Fusible Link, Two Bi-Level Parts Shelves, Filter, Hose with Spray Nozzle, Agitator
000000
00000000
Replacement Parts

Pump for 3189K51, 3189K61
0000000
Each
0000000
Filter for 3189K51, 3189K61
0000000
Each
00000
Hose for 3189K36, 3189K51, 3189K61
0000000
Each
00000
Fusible Link for 3189K51, 3189K61
0000000
Each
00000
Filter for 3189K51, 3189K61
0000000
Each
00000
Fusible Link and Spring Assembly for 3189K51, 3189K61
0000000
Each
000000
Hose for 3333K33
0000000
Each
00000
Closure Assembly for 3333K33
0000000
Each
00000
Pump for 3333K33
0000000
Each
000000
Filter for 3333K33
0000000
Each
00000
Pump for 3189K51
0000000
Each
000000
Pump for 3189K36
00000000
Each
000000
Fusible Link for 3187K4, 3189K36
0000000
Each
00000
Filter for 3187K4
0000000
Each
00000
Hose for 3187K4
0000000
Each
00000
Fusible Link and Spring Assembly for 3187K4
0000000
Each
000000
Pump for 3187K4
0000000
Each
00000000