Parts Washing Tubs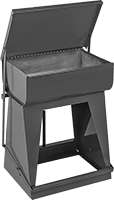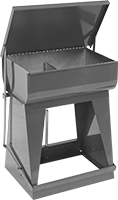 Immerse parts for cleaning and soaking. Use with solvent-based solutions that have a flash point above 105° F. Note: Do not use with flammable liquids.
Tubs with two compartments allow cleaning parts in one compartment and rinsing in the other. Each compartment holds half the total capacity.
Tub with fusible link has a cover that closes in the event of a fire.
Cap.,




gal.

Max.


Liquid
Level

Lg.

Wd.

Ht.

Lg.

Wd.

Ht.

Material
Specifications
Met
Features
Each
Each

One Compartment

11
8

1/2

"
24"
16"
8

1/2

"
24"
16"
33"
Steel
FM Approved

Drain Plug, Foot-Operated Soft-Closing Cover
000000
0000000
000000
0000000
22
11

1/2

"
35"
16"
11

1/2

"
35

1/2

"
16"
33"
Steel
FM Approved

Drain Plug, Foot-Operated Soft-Closing Cover
000000
00000000
000000
000000
25
14

1/2

"
24"
20"
18"
24

3/4

"
20

3/4

"
37"
Steel
__
Adjustable Basket Rack, Drain Plug, Safety Cover with Fusible Link
0000000
000000
0000000
000000

Two Compartments

8
8

1/2

"
24"
7

1/2

"
8

1/2

"
24"
16"
33"
Steel
FM Approved

Drain Plug, Foot-Operated Soft-Closing Cover
0000000
00000000
000000
00
18
11

1/2

"
35"
7

1/2

"
11

1/2

"
35

1/2

"
16"
33"
Steel
FM Approved

Drain Plug, Foot-Operated Soft-Closing Cover
0000000
00000000
000000
00