Vacuum Containers
Also known as vacuum degassing chambers, these remove trapped air from mixtures such as paint and mold resins. The fittings on the hose contain a gasket that allows you to connect the hose to flared fittings.
Aluminum containers are lightweight, corrosion resistant, and good for general use.
18-8 stainless steel containers have excellent corrosion resistance and are commonly used in laboratories.
Soda-lime glass containers are clear, so the material inside is visible from all angles.
PVC containers are lightweight and resist corrosion from harsh solvents. Because they're taller than other containers, they're often used for applications that require wood stabilization.
Containers with a side-mount gauge allow you to see the material inside of them when looking from the top.
Glass lids resist corrosion. They're primarily used to eliminate air bubbles in woodworking projects that use harsh chemicals, which would deteriorate plastic lids. Glass lids are less durable than acrylic lids.
Acrylic lids are more durable than glass lids. They're commonly used to eliminate air bubbles in hard setting materials, such as silicone and polyurethane.
Replacement lids do not include hardware or seal.
Replacement manifold assemblies include a manifold, vacuum gauge, washer, O-ring, and hex nut.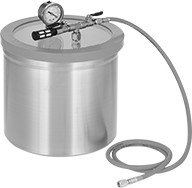 Aluminum with
Top-Mount
Gauge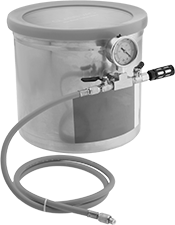 Aluminum with
Side-Mount
Gauge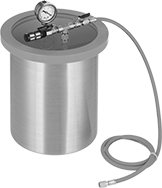 Stainless Steel with
Top-Mount
Gauge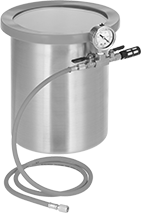 Stainless Steel with
Side-Mount
Gauge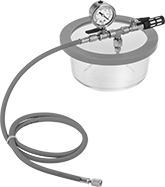 Soda-Lime
Glass with
Top-Mount
Gauge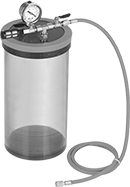 PVC Plastic
with
Top-Mount
Gauge
Cap.

Dia.

Ht.

Bottom
ID
Vacuum


Range,




in.

of Hg
Accuracy

Grad.




Marks,




in.

of Hg

Lg.

Thread
Size
Gender
For
Connection
Style
For
Flared
Angle
For
Tube
OD

Max.




Temp.,




°F

Removes
Particle
Size Down To
Includes
Each
Each

Aluminum with

Top-Mount

Gauge

Acrylic Plastic Lid with Silicone Rubber Seal

2 gal.
10

3/4

"
7

1/2

"
10"
30 to 0
±5%
0.5
5 ft.

7/16

"-20 UNF
Female
Flared
37°, 45°

1/4

"
150°
50 microns
50 Micron Air Filter, Lid
0000000
0000000
0000000
0000000
3 gal.
10

3/4

"
9"
10"
30 to 0
±5%
0.5
5 ft.

7/16

"-20 UNF
Female
Flared
37°, 45°

1/4

"
150°
50 microns
50 Micron Air Filter, Lid
0000000
000000
0000000
000000
5 gal.
12

3/4

"
11

1/2

"
12"
30 to 0
±5%
0.5
5 ft.

7/16

"-20 UNF
Female
Flared
37°, 45°

1/4

"
150°
50 microns
50 Micron Air Filter, Lid
0000000
000000
0000000
000000
7 gal.
16

3/4

"
9

3/4

"
16"
30 to 0
±5%
0.5
5 ft.

7/16

"-20 UNF
Female
Flared
37°, 45°

1/4

"
150°
50 microns
50 Micron Air Filter, Lid
0000000
000000
0000000
000000
10 gal.
15

1/4

"
17"
14"
30 to 0
±5%
0.5
5 ft.

7/16

"-20 UNF
Female
Flared
37°, 45°

1/4

"
150°
50 microns
50 Micron Air Filter, Lid
0000000
000000
0000000
000000
15 gal.
16

3/4

"
18

1/2

"
16

1/8

"
30 to 0
±5%
0.5
5 ft.

7/16

"-20 UNF
Female
Flared
37°, 45°

1/4

"
150°
50 microns
50 Micron Air Filter, Lid
0000000
000000
0000000
000000

Aluminum with

Side-Mount

Gauge

Glass Lid with Silicone Rubber Seal

2 gal.
10

3/4

"
7

1/2

"
10"
30 to 0
±5%
0.5
5 ft.

7/16

"-20 UNF
Female
Flared
37°, 45°

1/4

"
150°
50 microns
50 Micron Air Filter, Lid
0000000
000000
0000000
00000
3 gal.
10

1/4

"
9

3/4

"
10"
30 to 0
±5%
0.5
5 ft.

7/16

"-20 UNF
Female
Flared
37°, 45°

1/4

"
150°
50 microns
50 Micron Air Filter, Lid
0000000
000000
000000
00
5 gal.
12

3/8

"
11

1/2

"
12"
30 to 0
±5%
0.5
5 ft.

7/16

"-20 UNF
Female
Flared
37°, 45°

1/4

"
150°
50 microns
50 Micron Air Filter, Lid
0000000
000000
0000000
000000

Acrylic Plastic Lid with Silicone Rubber Seal

2 gal.
10

3/4

"
7

1/2

"
10"
30 to 0
±5%
0.5
5 ft.

7/16

"-20 UNF
Female
Flared
37°, 45°

1/4

"
150°
50 microns
50 Micron Air Filter, Lid
0000000
000000
0000000
00000
3 gal.
10

3/4

"
9"
10"
30 to 0
±5%
0.5
5 ft.

7/16

"-20 UNF
Female
Flared
37°, 45°

1/4

"
150°
50 microns
50 Micron Air Filter, Lid
0000000
000000
0000000
00000
10 gal.
15

1/4

"
17"
14"
30 to 0
±5%
0.5
5 ft.

7/16

"-20 UNF
Female
Flared
37°, 45°

1/4

"
150°
50 microns
50 Micron Air Filter, Lid
0000000
000000
0000000
000000

18-8

Stainless Steel with

Top-Mount

Gauge

Acrylic Plastic Lid with Silicone Rubber Seal

1 gal.
11

1/4

"
4"
10

1/4

"
30 to 0
±5%
0.5
5 ft.

7/16

"-20 UNF
Female
Flared
37°, 45°

1/4

"
150°
50 microns
50 Micron Air Filter, Lid
0000000
000000
0000000
000000
1

1/2

gal.
8

1/4

"
9

1/4

"
7

1/8

"
30 to 0
±5%
0.5
5 ft.

7/16

"-20 UNF
Female
Flared
37°, 45°

1/4

"
150°
50 microns
50 Micron Air Filter, Lid
0000000
000000
0000000
00000
3 gal.
10

3/4

"
11"
9"
30 to 0
±5%
0.5
5 ft.

7/16

"-20 UNF
Female
Flared
37°, 45°

1/4

"
150°
50 microns
50 Micron Air Filter, Lid
0000000
000000
000000
00
3 gal.
11

1/4

"
8

3/4

"
10

1/2

"
30 to 0
±5%
0.5
5 ft.

7/16

"-20 UNF
Female
Flared
37°, 45°

1/4

"
150°
50 microns
50 Micron Air Filter, Lid
0000000
000000
0000000
000000
64 oz.
5

3/4

"
7

1/2

"
4

3/4

"
30 to 0
±5%
0.5
5 ft.

7/16

"-20 UNF
Female
Flared
37°, 45°

1/4

"
150°
50 microns
50 Micron Air Filter, Lid
0000000
000000
0000000
000000
64 oz.
8

1/4

"
4"
7

1/8

"
30 to 0
±5%
0.5
5 ft.

7/16

"-20 UNF
Female
Flared
37°, 45°

1/4

"
150°
50 microns
50 Micron Air Filter, Lid
0000000
000000
0000000
00000

18-8

Stainless Steel with

Side-Mount

Gauge

Glass Lid with Silicone Rubber Seal

1

1/2

gal.
8

1/4

"
9

1/4

"
7

1/8

"
30 to 0
±5%
0.5
5 ft.

7/16

"-20 UNF
Female
Flared
37°, 45°

1/4

"
150°
50 microns
50 Micron Air Filter, Lid
0000000
000000
0000000
00000
3 gal.
10

3/4

"
11"
10"
30 to 0
±5%
0.5
5 ft.

7/16

"-20 UNF
Female
Flared
37°, 45°

1/4

"
150°
50 microns
50 Micron Air Filter, Lid
0000000
000000
0000000
00000
3 gal.
11

1/4

"
8

3/4

"
10

1/2

"
30 to 0
±5%
0.5
5 ft.

7/16

"-20 UNF
Female
Flared
37°, 45°

1/4

"
150°
50 microns
50 Micron Air Filter, Lid
0000000
000000
0000000
00000

Acrylic Plastic Lid with Silicone Rubber Seal

3 gal.
11

1/4

"
8

3/4

"
10

1/2

"
30 to 0
±5%
0.5
5 ft.

7/16

"-20 UNF
Female
Flared
37°, 45°

1/4

"
150°
50 microns
50 Micron Air Filter, Lid
0000000
000000
0000000
00000

Soda-Lime

Glass with

Top-Mount

Gauge

Soda-Lime

Glass Lid with Silicone Rubber Seal

56 oz.
8

1/4

"
3

1/2

"
6"
30 to 0
±5%
0.5
5 ft.

7/16

"-20 UNF
Female
Flared
37°, 45°

1/4

"
150°
50 microns
50 Micron Air Filter, Lid
0000000
000000
0000000
00000

PVC Plastic with

Top-Mount

Gauge

PVC Plastic Lid with Silicone Rubber Seal

1

3/8

gal.
7"
16"
6"
30 to 0
±5%
0.5
5 ft.

7/16

"-20 UNF
Female
Flared
37°, 45°

1/4

"
150°
50 microns
50 Micron Air Filter, Lid
0000000
000000
000000
00