Pocket-Size

Diameter Tape Measures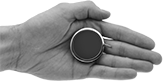 Metric
At about half the size of standard diameter tape measures, these fit in your pocket. Wrap them around circular items to measure circumference and determine diameter without the need for calculations. The blade is coated to resist scratches, wear, and corrosion. It's nonlocking and has a loop tip that hangs on a nail or stud.
Measured
Graduation
Marks

Lg.

Graduation
Marks
Numeric
Marks
Width
Material
Color
Tip
Style
Color
Mark
Style
Each

Metric

0"-23"
Millimeters
2 m
Millimeters
Diameter Centimeters, Centimeters

1/4

"
Coated Steel
Yellow
Loop
Black
Printed
0000000
000000


Permanently mount these rulers to a machine or workbench.
Flexible rulers are for mounting on curved surfaces.
Lg.

Front Top

Grad.

Marks


(Numeric Increments)

Front Bottom

Grad.

Marks


(Numeric Increments)

Wd.

Thick.

Flexibility

Grad.


Mark Style

No.


of

Lg.

Each

Metric—

Left to Right Reading Direction

White Plastic

2 m
Millimeters (1 cm)
Millimeters (1 cm)

3/4

"
0.004"
Flexible
Printed
2
1m
0000000
000000
2 m
Millimeters (1 cm)
Millimeters (1 cm)
1"
0.004"
Flexible
Printed
2
1m
0000000
00000
2 m
Millimeters (10 cm)
__

1/2

"
0.004"
Flexible
Printed
2
1m
0000000
00000
2 m
Millimeters (10 mm)
Millimeters (10 mm)

1/2

"
0.004"
Flexible
Printed
2
1m
0000000
00000

Metric—

Right to Left Reading Direction

White Plastic

2 m
Millimeters (1 cm)
Millimeters (1 cm)

3/4

"
0.004"
Flexible
Printed
2
1m
0000000
00000
2 m
Millimeters (1 cm)
Millimeters (1 cm)
1"
0.004"
Flexible
Printed
2
1m
0000000
00000
2 m
Millimeters (10 cm)
__

1/2

"
0.004"
Flexible
Printed
2
1m
0000000
00000
2 m
Millimeters (10 mm)
Millimeters (10 mm)

1/2

"
0.004"
Flexible
Printed
2
1m
0000000
00000