Diameter Tape Measures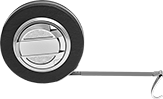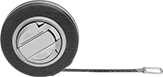 Loop Tip


Loop Tip
Also known as tree tapes, wrap these tape measures around circular items to determine diameter and measure circumference without the need for calculations. The blade is vinyl coated or chrome plated to resist scratches, wear, and corrosion, and the case is coated for scratch resistance. Chrome-plated blades are more durable than vinyl-coated blades.
Pointed-hook tip grabs the edge of an object or drives into wood.
Loop tip hangs on a nail or stud.
Measured
Graduation
Marks

Lg.

Graduation
Marks
Numeric
Marks
Width
Material
Color
Tip
Style
Color
Mark
Style
Each

Inch

2"-76"
10ths
20 ft.
100ths, 10ths
Diameter Inches, Inches, Feet

3/8

"
Chrome-Plated Steel
Silver
Pointed Hook
Black
Printed
0000000
0000000
2"-76"
Inches
20 ft.
16ths
Diameter Inches, Inches

3/8

"
Vinyl-Coated Steel
Black
Loop
Silver
Embossed
0000000
000000
Adhesive-Back

Vertical Rulers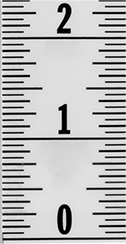 Permanently mount these rulers on machines, tanks, and walls to measure heights and depths.
Flexible rulers are for mounting on curved surfaces.
Lg.

Front Right Graduation
Marks

(Numeric Increments)

Wd.

Thick.

Flexibility
Color
Graduation
Mark Style

No.


of

Lg.

Each

Inch—

Bottom to Top Reading Direction

Plastic

20ft.
4ths (1")
3"
0.004"
Flexible
Yellow
Printed
5
4ft.
00000000
000000