Disposable Respirators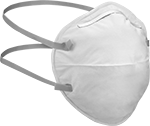 D
As you breathe through them, these respirators filter out contaminants in the air. Throw them out when soiled, damaged, or breathing is difficult.
N95 respirators filter out 95% of solid particles. They are not oil resistant.
Choose the correct size to create a good seal. Size M/L and one-size respirators fit most adults.
Style
Filter
Rating
For Use With
NIOSH Approval
Exhale
Valve
Size
Color
Features

Pkg.




Qty.

Pkg.

D
N95
Solid Particles
TC-84A-0007
No
One Size
White
Adjustable Nosepiece
20
0000000
000000