Disposable Respirators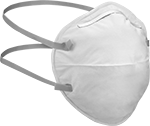 D
As you breathe through them, these respirators filter out contaminants in the air. Throw them out when soiled, damaged, or breathing is difficult.
R95 respirators resist oil exposure for up to 8 hours and filter out 95% of solid particles.
Choose the correct size to create a good seal. Size M/L and one-size respirators fit most adults.