Designed to slide into T-slot tracks on machine tool tables, use these nuts to secure clamps and workpieces.
Fully threaded nuts allow a stud to extend beyond the bottom of the nut. Partially threaded nuts keep studs from traveling past the bottom of the nut and damaging your table.
For technical drawings and 3-D models, click on a part number.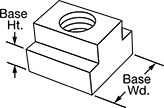 T-Slot

Nut and Setup Stud Kits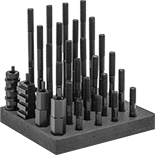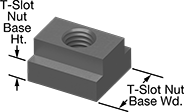 For mounting items to your machine table, these kits contain the full system of necessary components. Choose the kit with slot width matching that of your table.
Each kit includes T-slot nuts, setup studs, flange nuts, coupling nuts, and a T-slot cleaning tool.
For
Slot


Wd.

No.


of
Pieces
Includes
Threading
Base


Ht.


Base


Wd.

Overall


Ht.

Threading

Min.

Tensile


Strength,


psi

Material
Each
1"
37
4 T-Slot Nuts
4 Setup Studs each in 3", 4", 5",

6", 7", and 8" Lengths
4 Flange Nuts
4 Coupling Nuts
1 T-Slot Cleaner

Partially

Threaded

5/8

"
1

5/8

"
1"
Threaded on

Both Ends

125,000
Black-Oxide Steel
0000000
0000000
1

1/16

"
37
4 T-Slot Nuts
4 Setup Studs each in 3", 4", 5",

6", 7", and 8" Lengths
4 Flange Nuts
4 Coupling Nuts
1 T-Slot Cleaner

Partially

Threaded

11/16

"
1

5/8

"
1

1/8

"
Threaded on

Both Ends

125,000
Black-Oxide Steel
0000000
000000
1

1/8

"
37
4 T-Slot Nuts
4 Setup Studs each in 3", 4", 5",

6", 7", and 8" Lengths
4 Flange Nuts
4 Coupling Nuts
1 T-Slot Cleaner

Partially

Threaded

3/4

"
1

3/4

"
1

1/2

"
Threaded on

Both Ends

125,000
Black-Oxide Steel
0000000
000000