Telephone Wall Plates

Baseboard Mount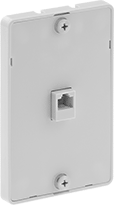 Wall Mount with Phone Bracket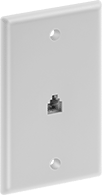 Wall Mount

Round Wall Mount
RJ11 jacks are primarily used in single-line telephone networks and with fax machines.
RJ12/RJ25 and RJ45 jacks are for multiline telephone networks and data networks.
Plates with a 110 punch-down wire connection are quicker to install than jacks with a screw or spade terminal. They require a punch-down tool (sold separately).
Plates with a phone bracket connect and hold the telephone on a wall.
Telephone
Connection Type
Ethernet
Connection Type

No.

of
Jacks

Ht.

Wd.

Dia.

Material
Color

No.

of
Wires
Each

Rectangular

Baseboard Mount with 110 Punch Down

RJ45
RJ45
2
3

1/2

"
2

1/2

"
__
PVC Plastic

Ivory
8
0000000
00000

Baseboard Mount with Screw Terminals

RJ11
__
1
2

3/4

"
2"
__
PVC Plastic

Ivory
4
00000000
0000
RJ11
__
2
1"
1

3/4

"
__
PVC Plastic

Ivory
4
0000000
0000
RJ45
RJ45
1
2

1/2

"
2"
__
PVC Plastic

White
8
00000000
0000

Baseboard Mount with Spade Terminals

RJ11
__
1
2

3/4

"
2

1/2

"
__
PVC Plastic

Ivory
4
0000000
0000

Wall Mount with Phone Bracket and Screw Terminals

RJ11
__
1
4

1/2

"
3"
__
PVC Plastic

Ivory
4
0000000
0000
RJ12/RJ25
__
1
4

1/2

"
3"
__
PVC Plastic

White
6
00000000
0000

Wall Mount with Screw Terminals

RJ11
__
1
4

1/2

"
2

3/4

"
__
PVC Plastic

Ivory
4
00000000
0000
RJ12/RJ25
__
1
4

1/2

"
2

3/4

"
__
PVC Plastic

Ivory
6
00000000
0000
RJ12/RJ25
__
2
4

1/2

"
2

3/4

"
__
PVC Plastic

Ivory
6
00000000
0000
RJ45
RJ45
1
4

1/2

"
2

3/4

"
__
PVC Plastic

White
8
00000000
0000

Round

Wall Mount with Screw Terminals

RJ11
__
1
__
__
3

1/4

"
PVC Plastic

Ivory
4
0000000
0000