Ethernet Cable Crimpers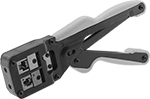 For Cable Industry Designation
For

Max.


Cable OD

Lg.

Material
Each

For

RJ11,

RJ12/25,

RJ45 Connectors

Category 3, Category 5, Category 5E, Category 6, Category 6A
0.30"
9"
Steel
00000000
000000
Ethernet Cable Ratchet Crimpers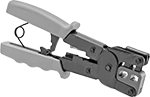 The ratchet applies the correct pressure to ensure a complete crimp every time.
For Cable Industry Designation
For

Max.


Cable OD

Lg.

Material
Each

For

RJ11,

RJ12/25,

RJ45 Connectors

Category 3, Category 5, Category 5E, Category 6, Category 6A
0.30"
8

1/2

"
Steel
00000000
000000
Shielded
Easy-Install

Crimp-On

Data Connectors
Protect sensitive equipment from electromagnetic interference. Pull wires all the way through the connector face, and then use the crimper to cut and crimp wires in one step.
Crimpers (sold separately) are required for wire installation. They ratchet to ensure the correct pressure is applied to every crimp.

With Internal Ground

With External Ground
Ground
Location
Ethernet
Connection
Type
For Cable
Industry
Designation
Number
of
Wires
For
Wire
Type
Housing
Material

Pkg.




Qty.

Pkg.

Internal
RJ45
Category 3, Category 5, Category 5E, Category 6
8
Solid, Stranded
Tin-Plated Copper
10
00000000
000000
External
RJ45
Category 5E, Category 6
8
Solid, Stranded
Tin-Plated Copper
10
00000000
00000