Quick and Secure Modular
DIN-Rail

Mount Terminal Blocks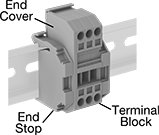 The spring-clamp terminals on these blocks make wire installation faster than other types of terminals. Push wire into the spring clamp for a secure connection that withstands vibration and temperature changes. Add as many circuits as you need with these terminal blocks and accessories; blocks mount side-by-side on DIN 3 rail.
Use blocks with disconnect tab for testing.
End covers fit on the open side of a block to prevent accidental contact with a live circuit.
End stops mount at the end of a group of blocks to prevent movement.
Adjacent jumpers connect terminals on adjacent blocks of the same width. Alternate jumpers connect terminals on two blocks of the same width, skipping a block in between.
Numbered marker cards include two of each number (1-50).
Note: Prices are 15% lower when you buy 25 or more of the same size.
For technical drawings and 3-D models, click on a part number.