Thermal Imaging Cameras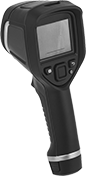 A
Detect hot spots, leaks, moisture problems, and construction defects invisible to the eye. These imaging guns translate thermal energy into a color image that indicates hotter areas as brighter and cooler areas as darker, so it's easy to identify and diagnose problems on instrument panels, HVAC systems, and other equipment. To review footage at a later date, use them to take photos and videos. The lower a camera's thermal sensitivity, the more precise heat differences it will detect for more detailed images. All are CE marked as meeting European standards for health, safety, and environmental protection. Some include a calibration certificate traceable to NIST stating they've passed a test for accuracy.
Adjustable Emissivity—For Dark, Dull, Light, Shiny Surfaces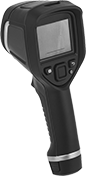 A
Cameras that cannot be sold to California do not meet local efficiency standards.
Temperature
Range
Thermal
Sensitivity


(NETD)

Resolution
Accuracy
Emissivity

Ht.

Wd.

Screen
Size
Housing
Material
Specifications
Met
Certification
Batteries
Included
Cannot
Be
Sold To
Each
A
-4° to 752° F/-20° to 400° C
<100 mK
160×120
±2%
0.1 to 1
9

9/16

"
3

11/16

"
3"
Plastic
CE Marked

__
Yes
__
000000
000000000
A
-4° to 1200° F/-20° to 650° C
<40 mK
320 x 240
±2%
0.01 to 1
11"
4

5/8

"
4"
Plastic
CE Marked

__
Yes
CA
0000000
00000000
A
-4° to 1200° F/-20° to 650° C
<40 mK
320 x 240
±2%
0.01 to 1
11"
4

5/8

"
4"
Plastic
CE Marked

Calibration Certificate Traceable to NIST
Yes
CA
00000000
00000000