About Sound Levels
To choose an alarm or speaker that's loud enough, first determine the decibel (dB) rating of background noise.
Non-Contact

Temperature Screeners
Quickly take people's temperatures as they enter your facility to screen out anyone with a high reading. These screeners have a thermal camera that uses infrared light to measure forehead temperature in two seconds at a distance of one to two feet. They're accurate within 0.9° F and 0.5° C, and work even if people are wearing masks, hats, and glasses. If their temperature is normal, there's an audible notification. Connect them to your network using Wi-Fi or their ethernet port in order to create a library of photos, retain data for reporting, and customize the screeners to display directions and your company name and logo. For basic temperature scanning only, there's no need to connect them to your network—simply plug their power cord into a wall outlet. If you want to keep people from entering until they pass the temperature check, wire these screeners to doors and gates. CE marked, they meet European safety, health, and environmental protection requirements.
Mount them to a wall, or add a desk stand or floor stand.
Warning: These screeners are not intended for medical use.
For technical drawings and 3-D models, click on a part number.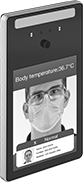 Temperature Screener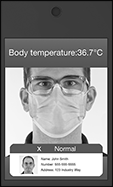 Temperature
Range
Resolution
Accuracy

Max.


Working


Distance,

ft.

Response


Time,




sec.

Ht.

Wd.

Dp.

Housing
Material
Specifications
Met
Cord


Lg.,




ft.

Mounting
Fasteners
Included
Each
89° to 106° F/31° to 41° C
0.1° F/0.1° C
±0.9° F/±0.5° C
2
2
10

1/8

"
5

7/16

"
1

13/16

"
6061 Aluminum
CE Marked

5
Yes
0000000
000000000
Enclosure Climate Sensors


These sensors measure temperature and humidity, then send that information to your PLC or controller to regulate heating and cooling equipment, alarms, and data recorders. Choose a sensor that works with your digital IO-Link or analog 4-20 mA system. Clip it to a DIN rail or screw it in to your enclosure, and use the micro M12 plug to connect the sensor to your controller.
Sensors meet American, Canadian, and European safety standards. Rated IP20, they're designed so fingers can't reach the electrical parts inside and get shocked. They also meet UL 94 V-0, so if they catch fire, they'll self-extinguish within 10 seconds and won't spread the fire by dripping.
Output
Signal
Setting
Tolerance
Setting
Tolerance
Voltage
Height
Width
Depth
Plug
Type
For DIN
Rail


Height,

mm
Mounting
Fasteners
Included
Environmental
Rating
Specifications
Met
Each
IO Link
-40° to 175 ° F
-40° to 80° C
±0.54° F
±0.3° C
0% to 100%
±3%
24V DC
5

1/2

"
1

1/2

"
1

1/2

"
Micro M12
35
No
IP20
CE Marked; UL 94 V-0; VDE Certified; C-UL Recognized Component; UL Recognized Component
0000000
0000000
4-20 mA
-40° to 140° F
-40° to 60° C
±1.8° F
±1° C
0% to 100%
±4%
24V DC
5

1/2

"
1

1/2

"
1

1/2

"
Micro M12
35
No
IP20
CE Marked; UL 94 V-0; VDE Certified; C-UL Recognized Component; UL Recognized Component
0000000
000000
Outdoor Thermometers

B

C
Scale


Ht.

Housing
Material
Mount
Type

Temp.


Range
Graduation
Marks

Temp.


Accuracy
Fluid
Color
Fluid
Material

Ht.

Wd.

Mounting
Hole

Dia.




(No. of)

Fasteners
Included
Each
B
8

1/4

"
Aluminum
Fastener Mount
-40° to 120° F/-40° to 50° C
2° F/1° C
±2° F/±1° C
Red
Diesel Fuel
8

1/4

"
2

1/2

"

7/32

" (2)
No
00000000
00000
C
9

7/8

"
Plastic
Fastener Mount
-40° to 120° F/-40° to 50° C
2° F/1° C
±3° F/±1.5° C
Blue
__
9

7/8

"
2

3/8

"

5/16

" (2)
No
0000000
00000
Heat Stress Monitors
Measure temperature, humidity, and radiant heat in your work area to keep your team safe from heat-related hazards. These monitors help you avoid dangerous conditions and comply with OSHA standards for a safe work environment. They use a variety of measurements from your surroundings to calculate the heat stress index and the wet bulb globe temperature (WBGT), which tell you how hot it feels. Set a maximum wet bulb globe temperature, and an alarm will go off when heat reaches the safety limit.
These monitors have two sensors. One measures temperature, humidity, dew point, and wet globe temperature. The other measures black globe temperature, which is the effect of direct solar radiation on an exposed surface. Carry monitors with you to measure different areas, or mount to your tripod to measure conditions over time.
To maintain their accuracy, monitors should be calibrated once a year. You can calibrate the monitor yourself using humidity standards. These standards contain a known humidity, so you can adjust your monitor until it reads the humidity correctly.
Monitors that come with a calibration certificate traceable to NIST have passed a test for accuracy.
Power these monitors with the included batteries, or add a power adapter to plug them in.
Add a memory card to store your readings and export them to a computer.
Wi-Fi

Enabled Water Overflow and Freeze Detectors
Keep an eye on leaks, overflow, and temperature changes near your equipment, even when you're offsite. These detectors connect to your Wi-Fi to send alerts about moisture, temperature, and humidity to your smartphone or tablet. Place them near tanks and tubs to watch for overflow, or near sump pumps and pipe lines to monitor temperatures and prevent frozen pipes. When water touches one of the sensors on the detector, a buzzer also goes off, alerting anyone nearby. Rated IP44, these detectors are protected from objects larger than 1mm, such as wires, and from water splashing in any direction.
Download an app onto your smart device to program temperature and humidity ranges and set up alerts. You can also create reports that show changes in temperature and humidity over time.
To extend the area they monitor, these detectors come with a detachable cable sensor that senses moisture along its entire surface. Swap in replacement cable sensors for worn sensors, or link several together to wrap around large equipment or trace the path of a pipe. Extend them up to 500 feet from detectors.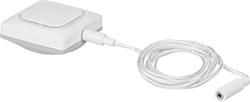 Detector

Each
Volume
Sound
Pattern

Wd.

Ht.

Dp.

Cord


Lg.,




ft.

Material
Batteries
Included
Sensor
Location
Operating
System
Compatibility
Includes
Each
100 dB @ 1 ft.
Continuous
3"
3"
1

1/4

"
5
Plastic
Yes
Bottom
Android 4.3 or Later, iOS 8 or Later
Detachable Cable Sensor, Mounting Screws
0000000
000000
Package
Volume
Sound
Pattern

Wd.

Ht.

Dp.

Cord


Lg.,




ft.

Material
Batteries
Included
Sensor
Location
Operating
System
Compatibility
Includes

Pkg.




Qty.

Pkg.

100 dB @ 1 ft.
Continuous
3"
3"
1

1/4

"
5
Plastic
Yes
Bottom
Android 4.3 or Later, iOS 8 or Later
Detachable Cable Sensor, Mounting Screws
4
0000000
0000000