Crush-Resistant

Flexible Duct Hose with Wear Strip for Dust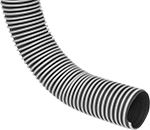 Black Hose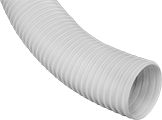 White Hose
Flexible
Compatible

Clamps:

Worm-Drive and Quick-Release Clamps

Color:

Black or White
Temperature

Range:

-60° to 275° F
Hose has a flexible plastic spiral that bounces back to its original shape when stepped on. The spiral acts as a wear strip to protect the hose from damage caused by dragging. Hose has a smooth interior for unrestricted flow. It is for use with lint, dust, and sawdust.
Black hose meets UL 94 HB for flame retardance.
White hose is made of FDA listed materials and is for use with dry food such as flour and sugar.
Warning: Hose should not be used for applications that generate a static charge.
ID
OD
Bend
Radius
Compresses
To

Max.


Vacuum

Max.


Pressure
Material


Thick.

Interior
Surface
Texture
Direction
Material
Specifications
Met

Max.


Continuous


Lg.,

ft.

1-24

25-Up

Black TPR Rubber

1"
1

3/8

"
2

1/2

"
75%
29 in. of Hg @ 72° F
34 psi @ 72° F
0.026"
Smooth
Left Hand
Plastic
UL 94 HB

50
0000000
00000
00000
1

1/4

"
1

11/16

"
2

1/2

"
75%
29 in. of Hg @ 72° F
28 psi @ 72° F
0.026"
Smooth
Left Hand
Plastic
UL 94 HB

50
0000000
0000
0000
1

1/2

"
2"
3"
75%
29 in. of Hg @ 72° F
23 psi @ 72° F
0.026"
Smooth
Left Hand
Plastic
UL 94 HB

50
0000000
0000
0000
1

3/4

"
2

1/4

"
3"
75%
29 in. of Hg @ 72° F
18 psi @ 72° F
0.026"
Smooth
Left Hand
Plastic
UL 94 HB

50
0000000
0000
0000
2"
2

1/2

"
3

1/2

"
75%
29 in. of Hg @ 72° F
17 psi @ 72° F
0.026"
Smooth
Left Hand
Plastic
UL 94 HB

50
0000000
0000
0000
2

1/2

"
3

1/16

"
4"
75%
24 in. of Hg @ 72° F
16 psi @ 72° F
0.026"
Smooth
Left Hand
Plastic
UL 94 HB

50
0000000
0000
0000
3"
3

5/8

"
5"
75%
19 in. of Hg @ 72° F
14 psi @ 72° F
0.026"
Smooth
Left Hand
Plastic
UL 94 HB

50
0000000
0000
0000
4"
4

5/8

"
7"
75%
16 in. of Hg @ 72° F
11 psi @ 72° F
0.026"
Smooth
Left Hand
Plastic
UL 94 HB

50
0000000
00000
00000
6"
6

3/4

"
7

1/2

"
50%
10 in. of Hg @ 72° F
14 psi @ 72° F
0.045"
Smooth
Left Hand
Plastic
UL 94 HB

25
0000000
00000
00000
8"
8

15/16

"
9"
50%
6 in. of Hg @ 72° F
14 psi @ 72° F
0.045"
Smooth
Left Hand
Plastic
UL 94 HB

25
0000000
00000
00000
10"
10

15/16

"
12"
50%
3 in. of Hg @ 72° F
10 psi @ 72° F
0.045"
Smooth
Left Hand
Plastic
UL 94 HB

25
0000000
00000
00000

White TPR Rubber

1"
1

3/8

"
2

1/2

"
75%
29 in. of Hg @ 72° F
34 psi @ 72° F
0.026"
Smooth
Left Hand
Plastic
FDA Compliant 21 CFR 177.2600, UL 94 HB
50
0000000
0000
0000
1

1/4

"
1

11/16

"
2

1/2

"
75%
29 in. of Hg @ 72° F
28 psi @ 72° F
0.026"
Smooth
Left Hand
Plastic
FDA Compliant 21 CFR 177.2600, UL 94 HB
50
0000000
0000
0000
1

1/2

"
2"
3"
75%
29 in. of Hg @ 72° F
23 psi @ 72° F
0.026"
Smooth
Left Hand
Plastic
FDA Compliant 21 CFR 177.2600, UL 94 HB
50
0000000
0000
0000
1

3/4

"
2

1/4

"
3"
75%
29 in. of Hg @ 72° F
18 psi @ 72° F
0.026"
Smooth
Left Hand
Plastic
FDA Compliant 21 CFR 177.2600, UL 94 HB
50
0000000
0000
0000
2"
2

1/2

"
3

1/2

"
75%
29 in. of Hg @ 72° F
17 psi @ 72° F
0.026"
Smooth
Left Hand
Plastic
FDA Compliant 21 CFR 177.2600, UL 94 HB
50
0000000
0000
0000
2

1/2

"
3

1/16

"
4"
75%
24 in. of Hg @ 72° F
16 psi @ 72° F
0.026"
Smooth
Left Hand
Plastic
FDA Compliant 21 CFR 177.2600, UL 94 HB
50
0000000
0000
0000
3"
3

5/8

"
5"
75%
19 in. of Hg @ 72° F
14 psi @ 72° F
0.026"
Smooth
Left Hand
Plastic
FDA Compliant 21 CFR 177.2600, UL 94 HB
50
0000000
0000
0000
4"
4

5/8

"
7"
75%
16 in. of Hg @ 72° F
11 psi @ 72° F
0.026"
Smooth
Left Hand
Plastic
FDA Compliant 21 CFR 177.2600, UL 94 HB
50
0000000
00000
00000
6"
6

3/4

"
7

1/2

"
50%
10 in. of Hg @ 72° F
14 psi @ 72° F
0.045"
Smooth
Left Hand
Plastic
FDA Compliant 21 CFR 177.2600, UL 94 HB
25
0000000
00000
00000
8"
8

15/16

"
9"
50%
6 in. of Hg @ 72° F
14 psi @ 72° F
0.045"
Smooth
Left Hand
Plastic
FDA Compliant 21 CFR 177.2600, UL 94 HB
25
0000000
00000
00000
10"
10

15/16

"
12"
50%
3 in. of Hg @ 72° F
10 psi @ 72° F
0.045"
Smooth
Left Hand
Plastic
FDA Compliant 21 CFR 177.2600, UL 94 HB
25
0000000
00000
00000