Spring Clamp Workholders
Secure small parts in spring clamps to keep hands free for soldering, gluing, and assembly. The workholder's arms are mounted to a base and adjust for positioning work at almost any angle.
Workholders that cannot be sold to Canada are restricted by local energy efficiency requirements.
Create-Your-Own

Workholders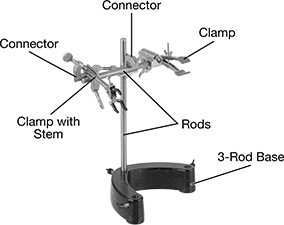 Build a custom clamping system for holding lightweight objects such as beakers and laboratory equipment. First choose a base, and then add rods, connectors, and clamps.
Stainless steel components provide excellent corrosion resistance.
Rod-to-rod connector holds two rods at a 90° angle.
Clamps require a connector to attach to rods.