Easy-to-Form

1100 Aluminum Wire

Spool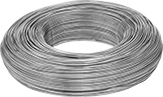 Coil

Yield

Strength:

3,

500 psi

Hardness:

Not Rated

(Soft)

Temper: O

Fabrication:

Cold Drawn
Specifications

Met:

ASTM B211
This wire has a soft temper and will stay in place when bent. Use it as tie wire and for bundling. Because 1100 aluminum is 99% pure, it offers superior formability, corrosion resistance, and electrical conductivity.
For technical drawings and 3-D models, click on a part number.

Certificates with a traceable lot number are available for these products. Download certificates from ORDER HISTORY after your order ships.
Dia.

Dia.

Tolerance

Lg.,

ft.

Heat Treatment

Max.




Temperature,

°F

Tensile


Strength,

psi

Net

Weight,




lbs.

Type
Each
0.013"
-0.001" to 0.001"
1,735
Annealed (Softened)
200°
11,000

1/4

Spool
0000000
000000
0.013"
-0.001" to 0.001"
6,940
Annealed (Softened)
200°
11,000
1
Spool
0000000
00000
0.013"
-0.001" to 0.001"
34,700
Annealed (Softened)
200°
11,000
5
Spool
0000000
000000
0.016"
-0.001" to 0.001"
1,085
Annealed (Softened)
200°
11,000

1/4

Spool
0000000
00000
0.016"
-0.001" to 0.001"
4,355
Annealed (Softened)
200°
11,000
1
Spool
0000000
00000
0.016"
-0.001" to 0.001"
21,790
Annealed (Softened)
200°
11,000
5
Spool
0000000
000000
0.020"
-0.001" to 0.001"
680
Annealed (Softened)
200°
11,000

1/4

Spool
0000000
00000
0.020"
-0.001" to 0.001"
2,725
Annealed (Softened)
200°
11,000
1
Spool
0000000
00000
0.020"
-0.001" to 0.001"
13,635
Annealed (Softened)
200°
11,000
5
Spool
0000000
000000
0.025"
-0.001" to 0.001"
430
Annealed (Softened)
200°
11,000

1/4

Spool
0000000
00000
0.025"
-0.001" to 0.001"
1,720
Annealed (Softened)
200°
11,000
1
Spool
0000000
00000
0.025"
-0.001" to 0.001"
8,605
Annealed (Softened)
200°
11,000
5
Spool
0000000
000000
0.032"
-0.001" to 0.001"
265
Annealed (Softened)
200°
11,000

1/4

Spool
0000000
00000
0.032"
-0.001" to 0.001"
1,075
Annealed (Softened)
200°
11,000
1
Spool
0000000
00000
0.032"
-0.001" to 0.001"
5,380
Annealed (Softened)
200°
11,000
5
Spool
0000000
000000
0.040"
-0.002" to 0.002"
165
Annealed (Softened)
200°
11,000

1/4

Spool
0000000
00000
0.040"
-0.002" to 0.002"
675
Annealed (Softened)
200°
11,000
1
Spool
0000000
00000
0.040"
-0.002" to 0.002"
3,390
Annealed (Softened)
200°
11,000
5
Spool
0000000
000000
0.051"
-0.002" to 0.002"
105
Annealed (Softened)
200°
11,000

1/4

Spool
0000000
00000
0.051"
-0.002" to 0.002"
425
Annealed (Softened)
200°
11,000
1
Spool
0000000
00000
0.051"
-0.002" to 0.002"
2,130
Annealed (Softened)
200°
11,000
5
Spool
0000000
000000
0.064"
-0.002" to 0.002"
67
Annealed (Softened)
200°
11,000

1/4

Spool
0000000
00000
0.064"
-0.002" to 0.002"
265
Annealed (Softened)
200°
11,000
1
Spool
0000000
00000
0.064"
-0.002" to 0.002"
1,340
Annealed (Softened)
200°
11,000
5
Spool
0000000
000000
0.080"
-0.002" to 0.002"
2,025
Annealed (Softened)
200°
11,000
12
Coil
0000000
000000
0.081"
-0.002" to 0.002"
42
Annealed (Softened)
200°
11,000

1/4

Spool
0000000
00000
0.081"
-0.002" to 0.002"
165
Annealed (Softened)
200°
11,000
1
Spool
0000000
00000
0.081"
-0.002" to 0.002"
840
Annealed (Softened)
200°
11,000
5
Spool
0000000
00000
0.114"
-0.002" to 0.002"
21
Annealed (Softened)
200°
11,000

1/4

Spool
0000000
0000
0.114"
-0.002" to 0.002"
84
Annealed (Softened)
200°
11,000
1
Spool
0000000
00000
0.114"
-0.002" to 0.002"
420
Annealed (Softened)
200°
11,000
5
Spool
0000000
00000
0.114"
-0.002" to 0.002"
1,010
Annealed (Softened)
200°
11,000
12
Coil
0000000
000000
0.125"
-0.002" to 0.002"
830
Annealed (Softened)
200°
11,000
12
Coil
0000000
000000
0.126"
-0.002" to 0.002"
17
Annealed (Softened)
200°
11,000

1/4

Spool
0000000
00000
0.126"
-0.002" to 0.002"
69
Annealed (Softened)
200°
11,000
1
Spool
0000000
00000
0.126"
-0.002" to 0.002"
330
Annealed (Softened)
200°
11,000
5
Spool
0000000
00000
Dia.

Dia.

Tolerance
Heat Treatment

Max.




Temperature,

°F

Tensile


Strength,

psi

Pkg.




Qty.

Pkg.

0.013"
-0.001" to 0.001"
Annealed (Softened)
200°
11,000
25
0000000
00000
0.016"
-0.001" to 0.001"
Annealed (Softened)
200°
11,000
25
0000000
0000
0.020"
-0.001" to 0.001"
Annealed (Softened)
200°
11,000
25
0000000
00000
0.025"
-0.001" to 0.001"
Annealed (Softened)
200°
11,000
25
0000000
00000
0.032"
-0.001" to 0.001"
Annealed (Softened)
200°
11,000
10
0000000
0000
0.040"
-0.002" to 0.002"
Annealed (Softened)
200°
11,000
10
0000000
0000
0.051"
-0.002" to 0.002"
Annealed (Softened)
200°
11,000
10
0000000
0000
0.064"
-0.002" to 0.002"
Annealed (Softened)
200°
11,000
10
0000000
0000
0.081"
-0.002" to 0.002"
Annealed (Softened)
200°
11,000
10
0000000
00000