Robot Tool Mounts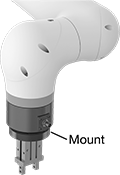 Connect robot tools to robot arms that have different ISO mounting patterns. Compatible with some models of Universal Robots (UR) and FANUC robots, these mounts are commonly used to equip robot arms with pick-and-place grippers, vacuum grippers, and sanders. They use ISO mounting patterns, an industry standard for arm connections. Mounts come with all the hardware you need to connect them to robot arms, but not all the hardware required to connect robot tools to mounts. If you don't see your robot model number listed, measure the bolt circle diameter to determine mounting compatibility.
Threaded mounts have a universal female-threaded connection on the tool side for attaching threaded tools, pipe, rods, and other components to robot arms. If you need a male-threaded connection, choose one with an included universal thread adapter. For other thread types and sizes, add a universal thread adapter.
Acetal plastic mounts are lightweight and strong. Often used in food-processing plants, they won't corrode from frequent washdowns with harsh cleaners.
To extend your robot arm's reach, use robot tool extensions.
For technical drawings and 3-D models, click on a part number.

Black Acetal Plastic
(Threaded)

End of Robot Arm

(Bolt On)

Pipe
Size
Gender
Mounting
Fasteners
Included
Bolt Circle

Dia.




(Mounting

Hole
Pattern

Compatibility)

Mounting
Fasteners
Included

Max.


Load


Cap.

Includes
For Robot Arm
Manufacturer


(Series/Model Number)

Each

Threaded

3/8

Female
No
31.5 mm (ISO 31.5)
40 mm (ISO 40)
50 mm (ISO 50)
63 mm (ISO 63)
Yes
110 lbs. / 50 kg
__
ABB (IRB 360 6/1600, 8/1130; IRB 120;
IRB 140; IRB 1200; IRB 1410; IRB 1520ID;
IRB 1600; IRB 2400; IRB 2600)
FANUC (CR 4iA, 7iA; CRX
10iA, 10iA/L; LR Mate 200iD/7L; M-20 iA)
KUKA Robotics (KR 10 R1100-2)
Omron (TM 5, 12, 14)
Precise Automation (PAVP6; PF3400; PP100)
Productive Robotics (OB7)
Staubli (TX2 90)
Universal Robots (UR3; UR3e; UR5;
UR5e; UR10; UR10e; UR16; UR16e)
Yaskawa/Motoman (GP 7, 8;
MH 3BM, 3F, 5LS II, 5S II;
MPP 3H, 3S; HC 10T; SIA 10D, 10F)
00000000
0000000

3/8

Female
Yes
31.5 mm (ISO 31.5)
40 mm (ISO 40)
50 mm (ISO 50)
63 mm (ISO 63)
Yes
110 lbs. / 50 kg
Universal

1/4

Male Thread Adapter
ABB (IRB 360 6/1600, 8/1130; IRB 120;
IRB 140; IRB 1200; IRB 1410; IRB 1520ID;
IRB 1600; IRB 2400; IRB 2600)
FANUC (CR 4iA, 7iA; CRX
10iA, 10iA/L; LR Mate 200iD/7L; M-20 iA)
KUKA Robotics (KR 10 R1100-2)
Omron (TM 5, 12, 14)
Precise Automation (PAVP6; PF3400; PP100)
Productive Robotics (OB7)
Staubli (TX2 90)
Universal Robots (UR3; UR3e; UR5;
UR5e; UR10; UR10e; UR16; UR16e)
Yaskawa/Motoman (GP 7, 8;
MH 3BM, 3F, 5LS II, 5S II;
MPP 3H, 3S; HC 10T; SIA 10D, 10F)
00000000
000000

3/8

Female
Yes
31.5 mm (ISO 31.5)
40 mm (ISO 40)
50 mm (ISO 50)
63 mm (ISO 63)
Yes
110 lbs. / 50 kg
Universal

1/8

Male Thread Adapter
ABB (IRB 360 6/1600, 8/1130; IRB 120;
IRB 140; IRB 1200; IRB 1410; IRB 1520ID;
IRB 1600; IRB 2400; IRB 2600)
FANUC (CR 4iA, 7iA; CRX
10iA, 10iA/L; LR Mate 200iD/7L; M-20 iA)
KUKA Robotics (KR 10 R1100-2)
Omron (TM 5, 12, 14)
Precise Automation (PAVP6; PF3400; PP100)
Productive Robotics (OB7)
Staubli (TX2 90)
Universal Robots (UR3; UR3e; UR5;
UR5e; UR10; UR10e; UR16; UR16e)
Yaskawa/Motoman (GP 7, 8;
MH 3BM, 3F, 5LS II, 5S II;
MPP 3H, 3S; HC 10T; SIA 10D, 10F)
00000000
000000