Bench-Mount

Threaded Rod Cutters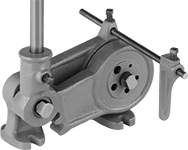 An alternative to hacksaws and bandsaws, these cutters use leverage to cut rods cleanly in a single stroke. One blade mounts in the base, the other to the movable jaw. They have an adjustable length gauge for cutting duplicate lengths.
Battery-Powered

Threaded Rod Cutters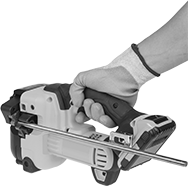 Make clean cuts on threaded rod with the pull of a trigger. These battery-powered cutters require less time and exertion than manual threaded rod cutters and hacksaws, so they're good for construction and other jobs with lots of cuts; a single battery charge cuts about 350 rods. Since you're not tethered to an outlet, you can cut rod that's already installed.
Unlike tools that cut with a fast-moving blade, such as circular saws, these cutters have a die that cuts smoothly and leaves no burrs. These dies won't bind and seize or send sparks and chips flying. To switch between threaded rod sizes, just rotate the cutting die.
For
Use
On
For
Thread
Size

For
Rod


Dia.

Overall


Lg.

Blade
Material
Handle
Material
Voltage
Batteries
Included
Includes
Features
Each
Aluminum, Brass, Stainless Steel, Steel

1/4

"-20,

3/8

"-16

1/4

",

3/8

"
14

1/4

"
Steel
Plastic
20V DC
Yes
Carrying Bag, Wrench
LED Light
0000000
0000000
Threaded Rod Cutters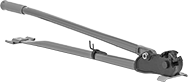 Cut rods and bolts while leaving their threads intact.
For Use On
For Maximum Soft
Steel Hardness
For Thread Size

For Rod


Dia.

Overall


Lg.

Blade
Material
Handle
Material
Each
Aluminum, Brass, Soft Steel
Rockwell B80

3/8

"-16

3/8

"
29"
Steel
Painted Steel
0000000
0000000
Aluminum, Brass, Soft Steel
Rockwell B80

3/8

"-16,

1/2

"-13

3/8

",

1/2

"
37"
Steel
Painted Steel
0000000
000000